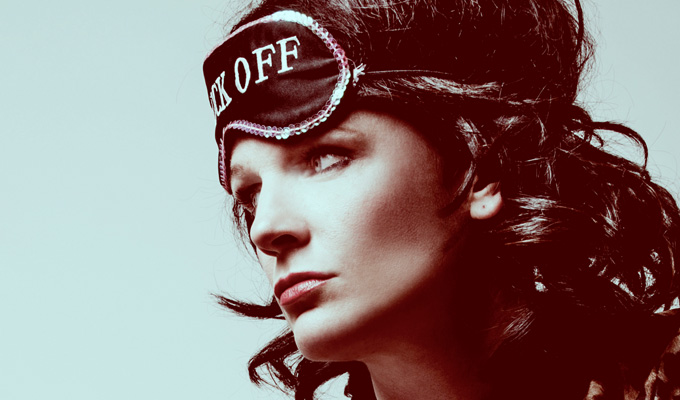 Beth Vyse: Get Up With Hands!
Note: This review is from 2014
Beth Vyse's show is indescribable.
Obviously, I could literally describe the events that occur over this insane hour, but I can't get them to make any sort of sense, because they don't. Vyse is not someone to gently nudge you towards her way of thinking, instead she insists you leap off the cliff of normality and into the crashing waves of weirdness. They might be invigorating… or you might drown.
It's certainly the first show I've seen when the performer might be upstaged by a vibrator; urgently buzzing around on the floor like a landed fish. It's there by accident, but she leaves it be, another addition to the cacophony of nonsense all around.
Very loosely, this is all set in a daytime talk show on ITV9, hosted by Vyse's sassy leopardskin-clad alter-ego Olive Hands, with the emphasis very much on the ego. She's especially manic today as she's on the verge of being cancelled – and the coach bringing all the guests, Jane McDonald, Letitia Dean and Peter Andre has been involved in a tragic crash with a horse. How will she cover? Getting the audience to stand in, posing as her guests with cheap wig and plastic breasts, of course. Such things are born of desperation.
So far, so – relatively – straightforward, but then add into the mix an excitable West Indian insect chef, Lusty Bee; crappy, cut-and-paste backdrops; poor-quality Hands-based puns; the random barks of her lost Pomeranian, Les Dawson as the Angel of the North; a blind Chinese talent show contestant (who we first met last year); face-painting and a man dressed as a fish. Her stage manager son, Jazz Hands (fine work from Ali Brice) tries to keep it all together while trying to win the love of his overbearing mother and discover his true father.
No, that still doesn't capture the intensity of this, both in absurdism and in performance. Vyse throws herself into the role – and, literally, into the audience – with a terrifying commitment to a character falling apart so explosively. Wigs come flying off, props get broken, wardrobes malfunction all in the maelstrom of madness. And the finale… well, you won't see anything like this hilariously appalling image on Live At The Apollo.
As long as you're prepared to throw yourself into the surrealism with at least some of the same abandon as Vyse, this'll be a wild, memorable ride. If you prefer things like characterisation, plot, consistent sense of time and place, forget it.
Review date: 15 Aug 2014
Reviewed by: Steve Bennett
Reviewed at: Pleasance Courtyard