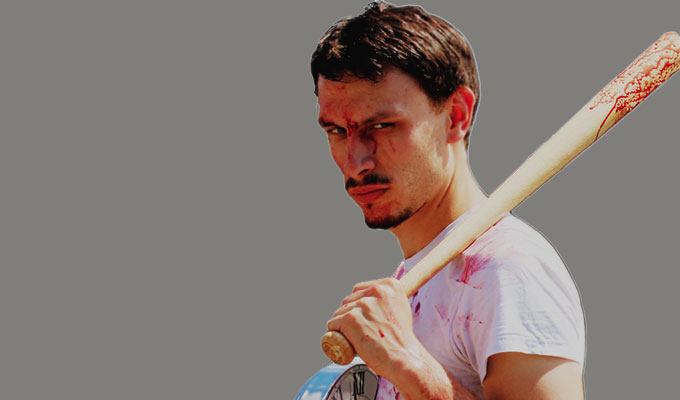 Richard Gadd: Breaking Gadd
Note: This review is from 2014
With a friendly, polite air Richard Gadd thanks the audience for watching and jauntily makes his post-show 'bucket speech' for donations. In any other case, this wouldn't be worth a mention – but after this journey into the grimmer recesses of his imagination, involving some pretty brutal self-abasement, it's good to feel that he's at least relatively well-balanced in real life.
He follows last year's Cheese And Crack Whores, a word-of-mouth cult hit, with another hour in a similarly troubled vein. The premise is that he was attacked in an Edinburgh street, waking up from the subsequent coma with no memory, not of the assailant nor of his own identity. He has a photograph, that is the only a clue.
Through regression therapy at the hands of a rather unethical therapist, Gadd recalls troubled incidents from his past, each of which left deep psychological scars. As he strips away each layer of his psyche, and his clothing, he exposes his crippling awkwardness with women and a harrowingly dysfunctional relationship with his family. The other characters are remembered voices in his head, a recorded soundtrack he interacts with, while the psychiatric sessions are played out on video.
Very much more real is his biggest fan, rather too keen to take part in the show. After all, he persuaded his intimidating brother – the owner of an ideologically suspect mattress factory – to sponsor everything. And all Gadd had to offer in return was his dignity, a currency that devalues in every scene. Both the supporting cast are played by actor Peter Henderson, who brings a controlled intensity to match Gadd's more manic version.
The comedian peels away his ego, subjecting himself to humiliations on stage, as the extent of psychological damage to the fictional him is revealed. It's raw and bleak – perhaps not quite so disconcerting as Cheese And Crack Whores since the fiction is clearer than before, even if the mind that created it is the same twisted specimen.
It's funny, too, sometimes from the release of tension, sometimes from the extremes of behaviour, sometimes because Gadd has written a damn good joke. Or a piss-poor one he oversells with brilliantly exaggerated desperation. Style and substance get equal attention, and he's always committed to the joke.
Breaking Gadd is a weird and wicked ride, not conventional comedy by any measure, but displaying a warped inventiveness that has a perfect home on the Fringe.
Review date: 14 Aug 2014
Reviewed by: Steve Bennett
Reviewed at: Laughing Horse @ The Counting House
Recent Reviews
What do you think?