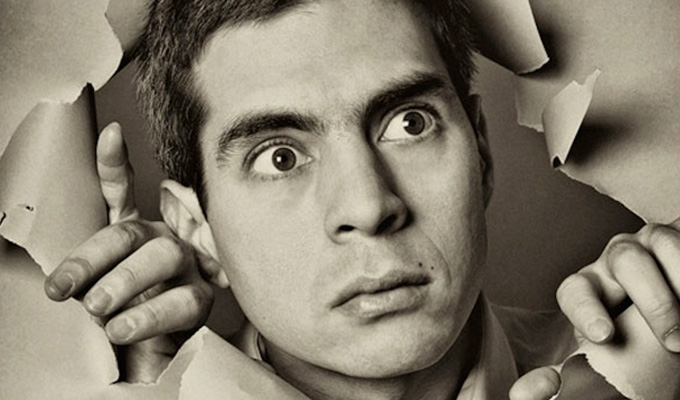 Brent Weinbach: Appealing To The Mainstream
Note: This review is from 2014
Deconstructing stand-up – especially bad, mainstream stand-up – is the sort of act that's always going to play well at the Edinburgh Fringe. But where someone like Neil Hamburger throws themselves fully into the performance, Los Angeles-based Brent Weinbach's approach is more detached, analytical and geeky.
Even his own performance has been scrutinised forensically to be addressed on stage, from his rigid, detached delivery to a physicality that sometimes resembles Rowan Atkinson's. There's no need for a reviewer to take notes, he does it for us. He formally introduces each of his sketches, for that is what they are, more than routines, and at the show's end he sombrely tells us the themes he was trying to address.
Sometimes his challenging of the stand-up tropes is direct; at other times he leads by example, performing something off-kilter, resolutely ignoring any of the tricks of the trade.
A trademark routine takes on the stereotypical Def Jam comics for their obsession with 'pussy' and the difference between ethnicities in a routine that becomes the comedy equivalent of Inception with in-jokes within in-jokes within a callback within an in-joke. Later he performs stand-up as a peculiar, bent-double creature with clawed hands.
His deadpan absurdism introduces us to the human personification of R&B, conducts the audience as an orchestra of noises (in a routine based on one weak pun), runs us through the A-Z of the Russian alphabet and closes with an example of Butoh Japanese dance. Kinda.
This is impressive, interesting, bold stuff – sometimes even funny. You have to admire how oblique his thinking, how peculiar his concepts, and how skilled the craft. But he's a little too cold to really connect with the audience, while in the carnival of oddities that is the Edinburgh Fringe, he's just nowhere near the edges of weirdness.
Of course, given his anal tendencies, he explains his ethos, saying: 'A lot of stand-up comedians tell jokes. I don't.' He says doesn't like gags you have to 'get' but prefers to appeal to something more primal. That might seem counter to his analytic approach that appeals to the head over the heart, but the logic leads him to some quirky scenes that elicit laughs for their odd tone alone. But not always.
The one comedy cliche he can't avoid is that doing sketches is a bit hit and miss.
Review date: 14 Aug 2014
Reviewed by: Steve Bennett
Reviewed at: Gilded Balloon Teviot
Recent Reviews
What do you think?