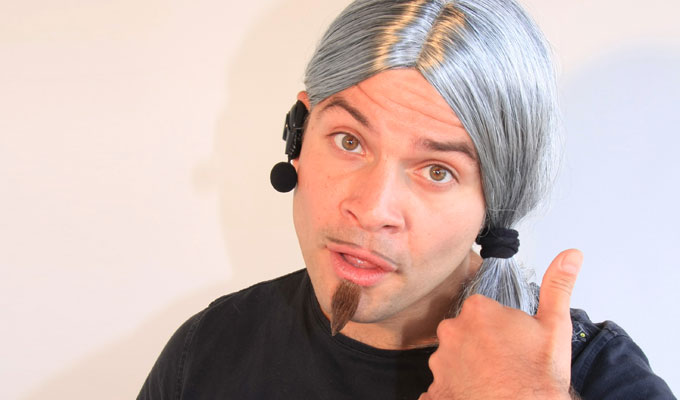 Morgan Berry Live
Note: This review is from 2014
With tambourine blazing, Joe Rowntree bounces on to the stage in his most flattering wig and a colourful dashiki. He declares himself to be Morgan Berry, Pet Bereavement Counsellor, specialising in helping people who have lost a pet rabbit. The next 59 minutes make as much sense as the first.
The basic idea is simple, if you have lost a pet and need help coming to terms with it, Morgan Berry helps you through that tough time. It is like an episode of Trisha where half the studio is on LSD and are keeping it a secret from the other half. There is laughter almost constantly throughout. Not always from the same people. It seems to move around as each spectator processes the bizarre antics in their own way, which creates a constant chain of tittering like a classroom of students who know they should be more mature, but can't really help themselves. It just makes everything all the funnier.
The style is Pythonesque in its whimsy. It is his use of very specific and nonsensical language that is so captivatingly funny, no one could claim to know what he is about to say next, perhaps not even him. Verbal sleight of hand and misdirection are abundantly clear in Rowntree's arsenal and he sets up straightforward gags in the most brilliantly convoluted way. He manages to pause at just the right moment to allow the audience to catch up, and then continues with the same syncopated rhythm to keep everyone off balance and laughing.
Rowntree's character is so complete that he drifts in and out of it effortlessly. He asks the audience about their 'rabbit owning experiences' as Morgan Berry, and then gets upset with them as Joe Rowntree when they don't quite follow what's going on, which is common and hilarious.
The performance ends as insanely as it begun with a 'huge' finale, featuring, among other things, drums, chanting and a glimpse into the dark spirit world. Along with a couple of (possibly) willing volunteers on stage who were as dazed as the rest of us.
The Edinburgh Fringe is always a great place to see unusual or experimental comedy. Ridiculous in its simplicity but with a lot of obviously thought-through preparation, this is an amazing example of how to do it right.
Review date: 14 Aug 2014
Reviewed by: Graeme Connelly
Reviewed at: Banshee Labyrinth
Recent Reviews
What do you think?