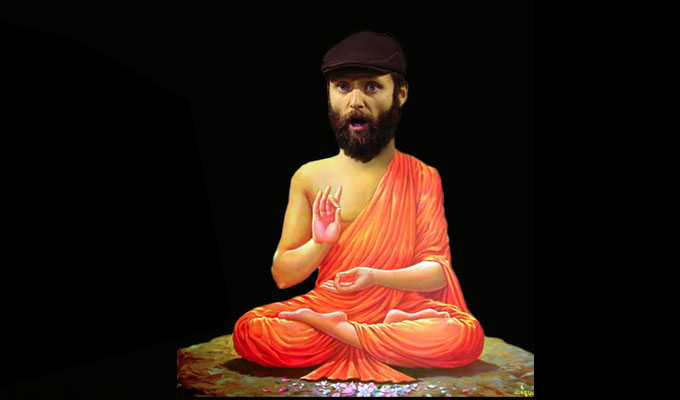 Aidan Killian: Jesus Versus Buddha
Note: This review is from 2014
He makes a lovely Christ, does Aidan Killian. The soft lighting, velvety drape and candlelight gives him the aspect of a delicate, Caravaggio Christ, but that's only half the story.
This 50-minute show, give or take, has probably more ideas and philosophy crammed into it than 100 other shows put together. It's brimming, chaotic, digressive and smart. Importantly it is also respectful and kind in its intention. It shouldn't upset any person of belief, but nor will it irritate sceptics and the bolshy.
It may belong more in the spoken word section of the Fringe programme than comedy but it isn't a lecture and it is funny throughout, although Killian does have fondness for peppering the set with some terrible groaners.
His performance builds to a breakneck speed, and we're not all going to achieve love and enlightenment going at that pace. But his passion and intelligence will certainly make you want to investigate more.
This is isn't any dippy-hippy nonsense, it's researched, comparative, and stuffed full of facts and some wonderful speculation – geriatric jihad anyone? He begins to wander into the subject area of his previous show in which he took on the bankers (and bloody won! Hurrah!) and there's a bit of a fashionable tick-list ranting about Goldman Sachs, Monsanto, and whatnot – we can only have been a few minutes away from some conspiracy fun and games – but away from this, he sows the seeds for further personal development.
It doesn't take genius to work out that Jesus and Buddha had complementary ideas, but nobody else on the Fringe is doing comedy and unironic spirituality in this way. Killian is offering a grab-bag of ideas that could keep you going until next Fringe, as a performer he's tremendously engaging and you will see nothing else in Edinburgh to compare with this.
It's a long way off slick, but I'd rather have this raw and stimulating show that feels like a jumping-off point than something neat tidy and closed down.
Review date: 13 Aug 2014
Reviewed by: Julia Chamberlain
Reviewed at: The Hive