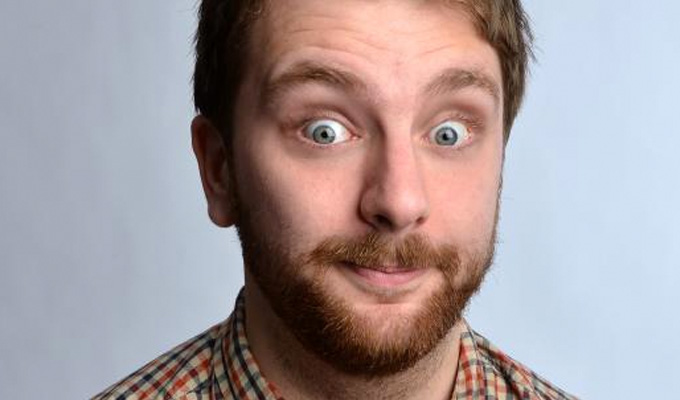 Pierre Novellie is Mighty Peter
Note: This review is from 2014
This is very much an 'introducing...' debut show from Pierre Novellie. The winner of last year's Amused Moose Laugh Off and a Chortle newcomer nominee this year, he's doing well to be able put an hour together so soon after winning a competition with just ten minutes. It could have been a disaster but it's an accomplished hour.
There are a couple of things that need clearing up at the top of the show: firstly his European name. Though his first name is French and his surname Italian, he claims no one in his family is either of those nationalities. He is from South Africa, but when he was seven, his parents upped sticks and moved to the Isle of Man.
The show is a hotchpotch of observations largely about South African and British culture. Johannesburg is evocatively painted as one of the most dangerously crime-ridden places in the world. Conversely, in Britain he pokes gentle fun at our contrasting stereotypical politeness – though his comment about pitying the foreigner who tries to get on a train before others get off surely is a matter of simple physics rather than manners.
Novellie finishes off taking a turn through some school subjects and a routine about how the Zulu lyrics in The Lion King's simply describe the film, so he tries a few other instrumental theme tunes with literally description lyrics.
The only problem with all this is that Novellie plays things safe so errs on the side of the pedestrian, more like an extended mainstream club set. But it's a thoroughly enjoyable show if not particularly ambitious. After all this is the Fringe and a chance to play around with ideas a bit more.
Nevertheless you feel in his safe hands, he's a confident presence who delivers his gags with authority – and with good reason as they hit the spot.
The only thing that remains a mystery about him is that surname, just how do you get an Italian surname without anyone in your family being Italian? Maybe that's one for next year's show. Now we've got the introductions out of the way, next time we can move on to a more meaty theme.
Review date: 13 Aug 2014
Reviewed by: Marissa Burgess
Reviewed at: Pleasance Courtyard
Recent Reviews
What do you think?