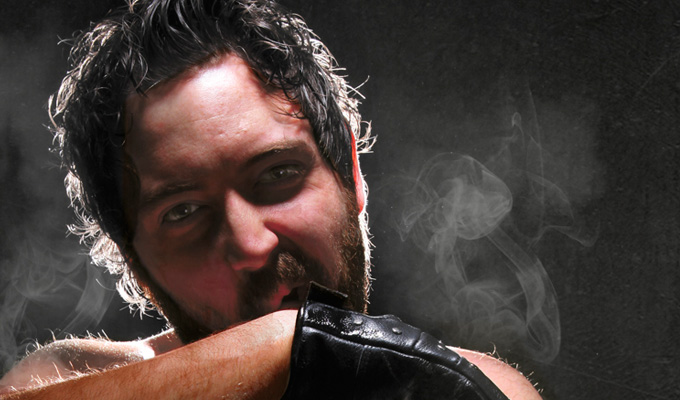 Nick Helm's Two Night Stand In The Grand
Note: This review is from 2014
It was, unofficially, billed as this year's answer to The Wrestling, the big-budget must-see extravaganza of the Fringe. But the first night of Nick Helm's fleeting return to Edinburgh was a slightly less certain bet, with a section that even seemed to derail the self-styled 'One Man Mega Myth' completely – although it turned out to prove the turning point for a gig that ended in spectacle and triumph.
The opening video set the scene, of a bleak, empty festival mourning the absence of Helm, until he magnanimously agreed to return, a saviour in glittery, light-up jumpsuit. Though it probably didn't auger well that the opening number, left him gasping for breath, with almost two hours still to go. A Helm gig is comedy's version of an obscene phone call, in which a man huffs and puffs between growling filthy sexual suggestions.
Fans will know the format by now, after meticulously checking that we like jokes; he delivers them. A generous nine this year, gloriously over-sold with their own power-pop tag lines and explosive sound effects. The irony is that they're actually solid one-liners that, with a different performer, would work without the post-goal celebrations –  though that would lose a wonderful flamboyance.
Then properly into the grizzled glam rock songs, a collection of swaggering greatest hits – some dating back to 2002 – plus a couple new in a similar vein. All backed with the full Helmettes band, and Romesh Ranganathan making a brief cameo to rap.
Though Helm belted out the early numbers with showmanship and a voice forged from gargling lava, he didn't quite seem to spread the hoped-for bawdy spirit across the Pleasance Grand. There was also a bit of a fudge offer what this was. A rock gig? An extended comedy show? The early audience participation seemed more awkward even that it was intended to be, with Helm adopting an tone that seemed a little harsh, especially as he hadn't firmly established himself as the broken romantic loser yet. Everyone probably knew that, but it would be good to to set up the narrative anyway.
Yet even without momentum, the tub-thumping tracks still rock. And yes there were a few hiccups on this opening night – loads of missed cues and wardrobe malfunctions that left Helm even more exposed that usual, hilariously. But I'm sure they will absolutely, definitely all be fixed by the end of the full Fringe run … in a few hours' time.
Then Helm came unstuck. Lost for words, for once, when it emerged that the girl he chose to seduce with his poetic I Fancy The Pants Off Of You hadn't turned her hearing aids, so couldn't hear him when she was brought to the stage. The revelation seemed to spoil what he had planned. But saying 'I'm glad you're fucking deaf', even in the context of his ultra-arsehole character turned the room to an extent – but probably not as much as he feared. After the initial shock, we did know it was a joke…
This section seemed doomed to fail anyway, since it was built on a karaoke version of a song from Uncle that few knew, I Like Like You. And the on-screen lyrics were out of synch with the music – making joining in an impossible task if you didn't know them; a fact Helm seemed unaware of as his mock-disappointment in the audience spilled over to the real thing.
Eventually he grasped the nettle and just did the damn thing himself… and the section had the effect of reinforcing the right mixture of pathos and bluster, just ahead of some of the greatest of his greatest hits (though the set list also had some notable exceptions, they couldn't all fit in, even in two hours).
Finally he could stand proudly, defiantly before us, a perfect summation of his one-man-against-the-world stance. And yes, he may be wearing what seemed to be a see-through scarlet negligee, black socks and threadworm underpants, but he could declare: 'I've worked out all my issues.'
So by the encore, it was stirring stuff. No Survivors – also from Uncle – culminated in a Les Mis-style waving of the Union Jack, the Saltire and the St George Cross, an stirring image to conclude.
Review date: 12 Aug 2014
Reviewed by: Steve Bennett
Reviewed at: Pleasance Courtyard
Recent Reviews
What do you think?