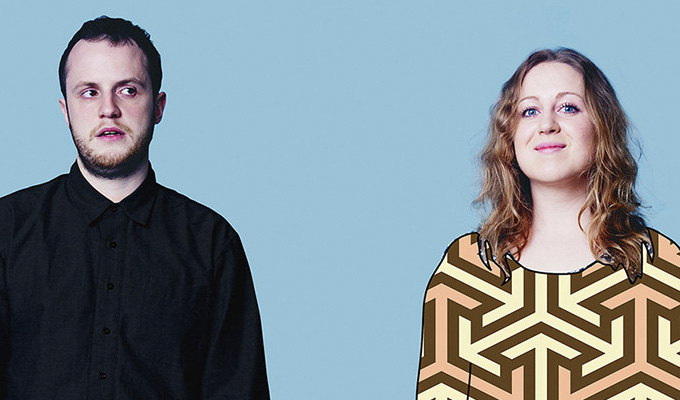 Twins
Note: This review is from 2014
A sketch duo whose very name plays with notions of chemistry, Twins deliver an auspicious debut.
That Jack Barry and Annie McGrath are patently not the identical siblings they claim to be opens up a wealth of opportunities for the pair to pick at their relationship and exaggerate their lack of professional sheen.
Their future in doubt, because their agent prefers rival sketch group The Original Comedy Twins, the core thread running through their skits is a search for their rumoured triplet, who shares the same identifying tattoo.
From the unlikely instance of their own earliest meeting, their characters tend to be insecure and seek in vain for reassurance from the other. They essentially always play themselves, even when McGrath slaps on a moustache to play the agent, Georgio, or Barry affects a wretched South African accent as their friend Heinrich, his advice on relaxation always about sharing your most intimate sexual fantasies. Both project an appealing amateurism, perennially crashing through the fourth wall and feigning irritation with the other's occasional fluffed line.
Generally, Barry is the buffoon, McGrath a bit more flatly caustic. Yet even without some supposed dream sequences, they switch roles enough to keep it interesting. When the focus of a sketch seems to be Barry's superhero abusing his position to demand erotic satisfaction, it nimbly turns on McGrath's mayor emerging as a representative of any and ever minority. Elsewhere, they recreate a classic British sketch for the Chinese market, the perversity of the exercise not inhibiting their commitment to perform it.
Twins' simpatico back-and-forth dialogue can't obscure the fact that some of the creakier sketches are simply that however, incapable of standing alone without the tension between them. And aside from their roles in progressing the story, Georgio and Heinrich are strictly one-note. Still, the underlying basis of Twins is sound and they should progress to greater things.
Review date: 10 Aug 2014
Reviewed by: Jay Richardson
Reviewed at: Laughing Horse @ The Blind Poet
Recent Reviews
What do you think?