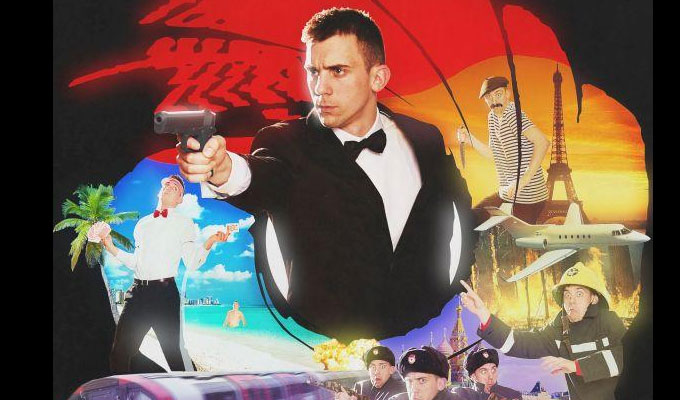 Mat Ewins: The Six Million Dollar Ewins
Note: This review is from 2014
Tightly scripted, easy-to-follow stories seem anathema to Mat Ewins, as he delivers yet another ramshackle but rollicking hour of loosely strung together action sequences and daft set-pieces, the ridiculousness of his enterprise glaringly evident from the start.
Appropriating the amnesia storyline of The Bourne Identity, the clicking countdown of 24 and countless allusions to James Bond and Steve Austin, the plot, such as it is, is that tuxedo-sporting Ewins must recover his memory about how he died and diffuse a bomb hidden somewhere in the venue. Probably the best you can say about it is that the supporting flashbacks don't make it that much harder to comprehend.
Of course, that's the point. Featuring some impressively edited clips of him and various members of the Bearpit Podcast (Podcast) collective, assisting or obstructing Ewins in his endeavours, some decidedly naff cardplay and inexplicable dancing, not to mention location shots of Miami, Paris and Moscow (looking much like Weston-Super-Mare, Blackpool and a warehouse somewhere), the show is accompanied by a self-aware commentary on the escalating shambles. There's simmering tension between Ewins and his technician and he exasperatedly admonishes anyone in the audience whose failure to grasp what he wants from them flies in the face of the race against the clock.
Amusingly, plenty of time, money and computer programming seem to have been lavished on sequences that quickly collapse beneath their own preposterousness. Elsewhere though, silly bits of throwaway nonsense with the most rudimentary props are required to keep the whole listing tube train on the tracks. Yet amid all the schlock, there's inventiveness and some great lines peppering the script. Slightly bug-eyed with the intensity of his performance, Ewins gauges and responds nimbly to the reaction in the room, while reinforcing the impression that matters could still spiral out of his control.
Don't go expecting a clever spoof on espionage movies, or even over-cooked Edinburgh Fringe shows, although that's nearer the mark. But if you're after a bit of fun, late-night nonsensicality, Six Million Dollar Ewins certainly fits the bill.
Review date: 9 Aug 2014
Reviewed by: Jay Richardson
Recent Reviews
What do you think?