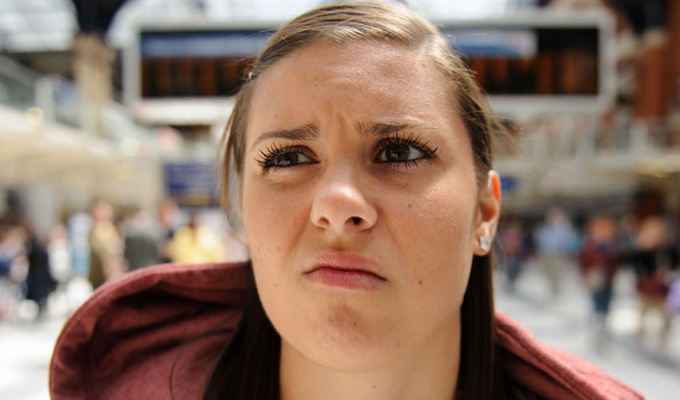 Don't Tell Anyone About Sarah Callaghan
Note: This review is from 2014
It's refreshing to hear a proper young working-class voice in comedy that isn't just a middle-class graduate putting on a hoodie and an accent. Sarah Callaghan is the real deal, and brings an unaffected authenticity to her set.
The downside to the lack of polish is a lack of focus, and this 45-minute show needs a much sharper clarity of purpose. Or at least less blether around what are some decent jokes, which also need more space to breathe in a hurried delivery.
Loosely, the 'don't tell' premise is that this early twentysomething Londoner has some embarrassing secrets that she doesn't want leaking out there – although she vows she's a changed woman after rather a long-winded and clumsy bit about being guided by the spirit of a dead entertainer that seems to exist only so she can do a 'Michael Jackson has entered me' gag.
She has bags of attitude, without being too nasty with it, but it needs direction. She's great at complaining about the love of her life, and wise beyond her years when it comes to getting the upper hand in the relationship. Across the scattergun set there are nice lines about bitchy behaviour and under-attended gigs, and elsewhere, that shows some writing flair on a par with that sass.
Yet sneering at other comedians seems both rude and ill-judged when she hasn't proved herself yet – and in any case these gags are pretty weak. She could turn this into a joke about her own petulance, maybe, although self-deprecation isn't really her style. The story about her appalling behaviour at Disney World, for example, has little contrition, and doesn't unfold much as a story, either.
As a vehicle for her comedy talents, this show is a rattling old charabanc, but she has the potential to be a great driver. She just needs to put more mileage on the clock.
Review date: 7 Aug 2014
Reviewed by: Steve Bennett
Reviewed at: Laughing Horse @ Finnegan's Wake
What do you think?