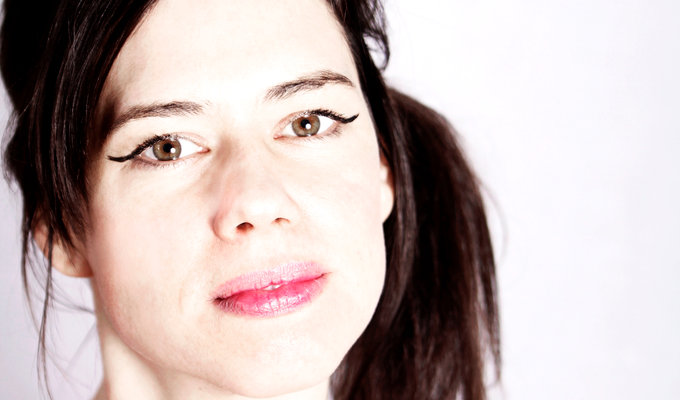 Lou Sanders in Another Great Show Again
Note: This review is from 2014
Quirky, cheeky, not quite all there but probably not in a dangerous way, Lou Sanders is something to behold on stage. Animated and articulate, she nonetheless chooses to present herself as a bit mad – and pulls it off convincingly. Gently concealing real comic talent, her zany exterior houses well-thought-out material and strong jokes.
Sanders is naturally funny, and sells herself as egocentric and conceited. Many try and fail the crazy ex-girlfriend routine, but Sanders is credible enough to pull it off. There is magic in her eye that adds something to the performance. She tells us of her past relationships with a practised air and confidence in her material, she knows she is funny.
Turning styles on a sixpence, Sanders goes from stand-up to performance artist and back again, not quite effortlessly but without too much of a to-do. She regularly seems to lose her place and ask her techie where she is, before swiftly hopping back on track. It's not unprofessional; it's all part of the fun.
Well timed one-liners are thrown in with random tales of her life, in which she is often the butt of her own jokes. She reads passages from erotic novels she has written herself, telling the audience why she has decided to steer away from the 50 Shades style in favour of her own unique approach. Dissecting each line, she is able to remove anything remotely sexual from the sexual content, although it is definitely still 18+.
Sanders rambles inanely from one topic to the other, the crowd merrily follow her, not quite sure what she is going to say or do next. However, we are never disappointed. Her one-woman rendition of a school play she attended is hilarious. Then she proudly displays her 'passion project' a fruit and veg based calendar. While on paper this is just bizarre, she has a whimsical and surreal way of making the audience believe she is into it.
This an hour of non-stop entertainment with seriously big laughs, wild and free and very, very funny.
Review date: 6 Aug 2014
Reviewed by: Graeme Connelly
Reviewed at: Laughing Horse @ City Cafe
Recent Reviews
What do you think?