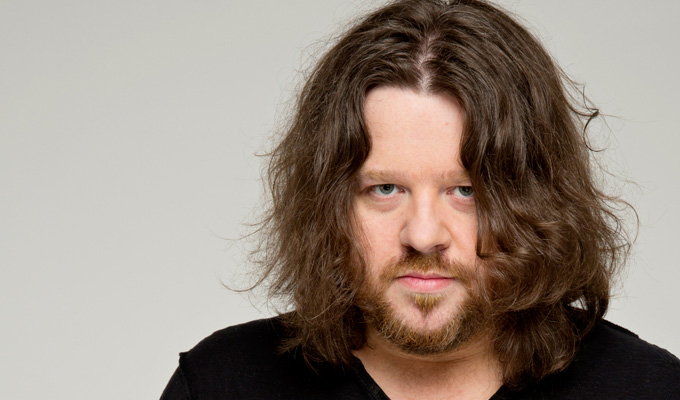 Ray Peacock: Here Comes Trouble
Note: This review is from 2014
Comedians thrive on stories of stupid pranks, and few have a greater stock than Ray Peacock. He has an impulsive compulsion to muck about, making mischief on a daily basis, which he usually exacerbates by wise-cracking to any authority figures who become involved.
Adventures such as letting his non-driving friend Ed [Gamble] take the wheel on a motorway at 88mph, just so he can 'have a go', tend to escalate. He talks of getting giddy with excitement at his spontaneous naughtiness, and from these incidents you might conclude that he's great fun to be around, the life of the party. 'But I'm a nightmare,' he says, 'a living hell.'
That can seem a little hard to believe as he jauntily embarks on another anecdote about another entertaining escapade, instigated purely for his own amusement. Joining the throng of teenage girls outside Justin Bieber's hotel, for instance, or landing a hefty fine for wasting police time after framing another pal, just to see the look on his face when he was nabbed.
These are great stories, with Peacock delighted to be reliving them, sharing he silliness with his audience with cheeky glee, upbeat despite the melatonin sleeping tablet he accidentally took before this performance. Only the late-night Twitter jape, escalating across followers, is oversold, as it's fairly typical of the good-natured capers that frequently capture the imagination of social media users.
Peacock's open conversational style, makes each retelling seem fresh, even if he escalation of events is told with the perfect phrasing that only repetition can achieve. He's not a man who particularly needs jokes as life – and the gargantuan stupidity of another, now former, friend – throws up all the source material he needs.
But, without dwelling on it, Peacock also reveals there's a flip-side to his personality, touching on depression, a relationship break-up and a suicide attempt. Spoiler alert: it failed, but in a perfectly comic way, and Peacock's playful attitude even extends to describing the attempt on his own life. Turns out he is bipolar – though ever the contrarian he prefers the word 'manic' – and must be the only comedian NOT to be encouraging his audience to follow him on Twitter, for fear of the bleak corners of his mind that leak onto his feed when darkness falls and loneliness strikes.
He warns us from the start there will be difficult moments in the show; but their honesty and his matter-of-factness dissipates any discomfort. Instead the dramatic undertow provides some emotional counterbalance to all the flippancy, a crucial extra layer to the storytelling, which is subtly more structured that the Knockabout nature suggests.
Review date: 5 Aug 2014
Reviewed by: Steve Bennett
Reviewed at: Underbelly Bristo Square
Recent Reviews
What do you think?