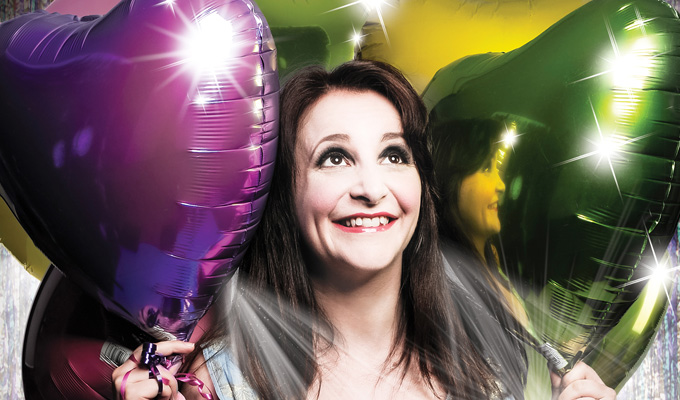 Lucy Porter: Me Time
Note: This review is from 2014
Oooh what a lovely sit-down-with-a-nice-cuppa-and-a-biscuit show (except you can't sit down at the Stand One if you're not quick off the mark at a sold-out show). Lucy Porter could be on the sofa of Graham Norton, Jonathan Ross or Alan Carr and keep the audience delightfully entertained without the need for any other guests. Me Time is a great curtain raiser to a day of flogging round the Fringe.
People who say they get more laughs from listening to their friends than they do from stand-up comedians, should give Lucy Porter a go. She's chatty and easy-going, it feels like your best friend is rabbiting away across the red wine and nibbles, but without all the ums and errs and digressions and repetitions or moaning.
Her style is genially anecdotal, inclusive and there's a lovely, chummy complicity with the audience. She's not an 'I'm a lonely outsider and so odd' type, instead you feel like there's a possibility that you have mutual friends and experiences, she just reflects life with a bit more fairydust than most of us bring to our day. It's a glittering, one-sided conversation from a positive, witty, cheery friend with a broadly similar world view and experiences, so what's not to enjoy?
That's not to say there's no skill involved, there's plenty of stories within stories, callbacks, links, and a nice lightness of touch. She covers familiar topics with warmth and acuity, she's not gag-heavy but there's rolling laughter of recognition throughout the hour.
Friends, marriage, children, adolescence, inner lives and sexist van drivers, they are all here,and you don't need to be married or have children to appreciate the observations. It's real life with a polish, not airheaded or inane.
If she doesn't already do a Talk Radio show, somebody is missing a trick. And I know she'd work on radio, as that's pretty much how I experienced the show, standing in a corridor behind a clump of people, not seeing very much at all, a rotten way to see a good show. Be punctual.
Review date: 5 Aug 2014
Reviewed by: Julia Chamberlain
Reviewed at: Stand 1
Recent Reviews
What do you think?