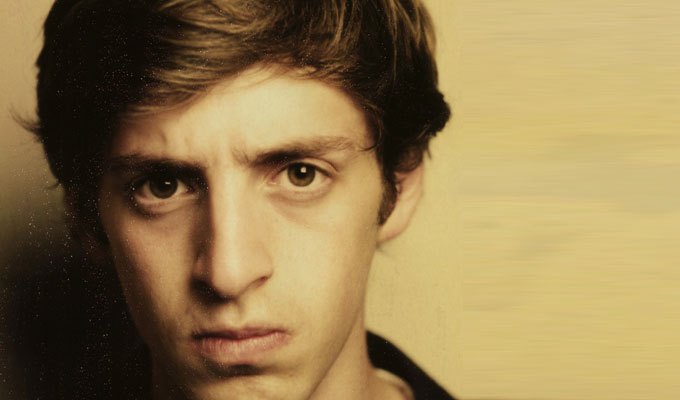 Alex Edelman: Millennial
Note: This review is from 2014
'I have a mouth on me,' Alex Edelman tells us, rather unnecessarily as he regales yet another tale of smart-arsery and backchat.
This young Bostonian Jew cannot see a relationship break-up in a coffee shop without wading in; cannot call the BlackBerry helpline without escalating the situations; or cannot pop into a London cupcake store without it becoming an 'incident'. Even the first man on the moon is not immune to his cheek.
This rich source of stories provides the meat of Edelmen's accomplished Fringe debut – a slick, pacy, gag-packed hour that has the confidence to eschew obvious themes, elaborate constructions or performance gimmicks, instead comprising only proudly unadulterated stand-up, pure and simple.
Material is scaffolded by a recurring story in which he quite literally tries to determine if he is the voice of a generation – a thorough academic questionnaire to see how representative he is of the millennial Generation Y of young twentysomethings. And, despite the show's title, the answer is 'not really'.
But that's probably a benefit for a stand-up rightly unconcerned with hitting a demographic. Instead he has an outsider's eye and a maturity towards his craft that belies his still relatively tender years. Howeveer he understands the millennial's place in the world as having a voice, but it not yet mattering – a sentiment that certainly drives his work.
Another big factor in his comedy is his Jewishness – he's an observant, orthodox practitioner who's never tasted bacon and greets his Saturday night crowd with a a cheery 'good Shabbat'. Modern stand-up is, of course, substantially Jewish in outlook and rhythm, which Edelman innately follows. 'What does being Jewish mean?' he asked his Papa when he first became aware of his heritage. 'It means you're never happy with the status quo; you always want things to be different.'
That certainly explains some of Edelman's run-ins with authority, somewhere between petulant and playful, stubborn and stupid. He's certain a clever-dick – as you might hope from a $193,000 New York University education, from which he graduated just last year.
Edelman has also learned how to be a sharp comic operator, and every honed line in this calling-card of a show drivers towards the next gag with lean efficiency. Sometimes you can see the end joke coming, but the steps along the way are still enjoyable.
What's missing is a strong emotional tow. Over the hour we are introduced to Edelman but barely get to know him beyond his wise guy comments. Nevertheless, this is certainly an assured debut for a young comic who absolutely knows what to do, and does it well.
Review date: 4 Aug 2014
Reviewed by: Steve Bennett
Reviewed at: Pleasance Courtyard
Recent Reviews
What do you think?