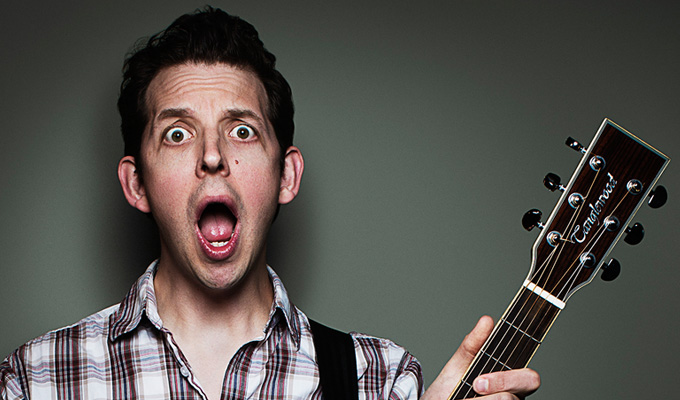 Jonny Awsum: Sexy Noises
Note: This review is from 2014
Jonny Awsum is not one to make any dents on the boundaries of comedy. He's a mainstream musical comic with a song about how big his penis is, a gag dismissive of the 'ginger one in Girls Aloud', and plenty of call-and-response to get the audience involved.
Indeed the crowd are an integral part of the show, and because Awsum exudes a powerful feelgood vibe when he playfully engages with them, both individually and as a group, everyone is guaranteed to go home happy. Right from the start he greets people by name, and his positive bonhomie never lets up. He is a great MC, or musical compere, tricks he perhaps picked up in his pre-comedy career as barman at The Chuckle Club.
There's a big, Friday-night group in this performance, and he's the perfect comic to channel their inoffensive high spirits. When he pulls one of their number onstage, a crack about his Primark clothes reduces his mates to hysterics – even though those trakkie bottoms are clearly branded Abercrombie & Fitch
But Awsum is not cruel; he makes the people he involves feel like champions, whether they are called upon to air guitar, accompany him on the wooden block, or be temporarily crowned 'Queen of Edinburgh'. As a mob, we chant and clap when requested, Awum's likeable enthusiasm, greeting every audience contribution with praise and delight, prove irresistibly infectious. His only motive is to ensure we'll have a good time, and we trust him to deliver.
Although most of his jaunty songs are original, he's not beyond deploying a Queen or Eminem track to keep the party moving. And he has a song parody that changes the lyrics of a Take That hit so it's about pulling a fat bird, as so many parodies are. Items such as that make it hard to get too excited about him as an advancement of comedy.
But if I ran a club, particularly one that attracts a casual comedy audience, he's be a regular on the books. He's as close to a sure-fire crowdpleaser as you can get.
Review date: 3 Aug 2014
Reviewed by: Steve Bennett
Reviewed at: Gilded Balloon Teviot
Recent Reviews
What do you think?