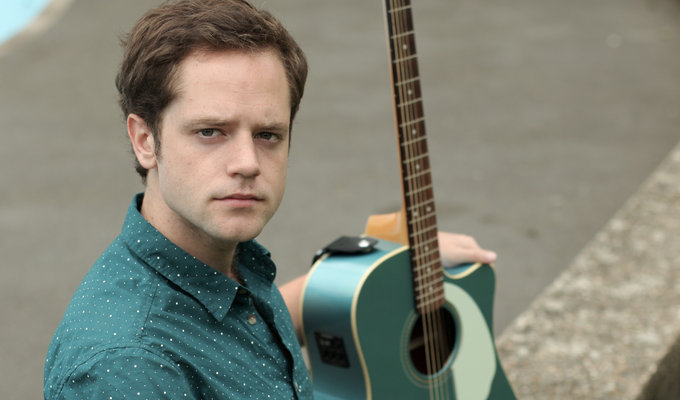 David Elms: Nurture Boy
Note: This review is from 2014
While most musical comedians like to rock out with upbeat, power-packed numbers, David Elms writes quiet, tender, almost ethereal tunes.
His stage persona is just as mild-mannered, with his hesitant, near-whisper of a delivery initially almost lost in even this, the smallest of rooms. It means the atmosphere is slow to build, despite the strength of his quirky lines… but so modestly charming is he that we are won over, and on his terms.
Yet with such low energy there is always the risk of inducing drowsiness, which Elms aims (semi-successfully) to combat with the aid of an alter-ego, Ingel Murtzen, supposedly the man behind the 'David Elms' persona. Of indeterminately middle-European heritage, and with an accent like Henning Wehn's, Murtzen is a lonely, weird outsider, psychologically damaged by a cruel childhood – unlike the contentedly middle-class Elms.
It adds a disconcerting extra dynamic to an already strange show, and it isn't always an obvious choice to keep returning to the teutonic oddball. But it is all justified by the set piece of the best man's speech, delivered by a willing volunteer but brilliantly interrupted by 'Ingel' from the floor.
As Elms, the songs are the undeniable highlights of this hour, from the consciously clever Phoenetic Love, expressing his feelings via the Nato alphabet – Bravo! – to his ballad highlighting romantic movie cliches. Even without the wryly funny lyrics, they would be delightful tracks in their own right, and a welcome departure from the musical comedy norm.
With the rest of his comedy, too, Elms is creating an alternate aestethic valuing the quiet and thoughtful over the loud and brash, which means punchlines tend to be longer coming, but more rewarding when they do. His solo debut definitely feels a bit different, and even if there are noticeable lulls, overall makes for a rewarding hour with some fantastic moments.
Review date: 3 Aug 2014
Reviewed by: Steve Bennett
Reviewed at: Pleasance Courtyard
Recent Reviews
What do you think?