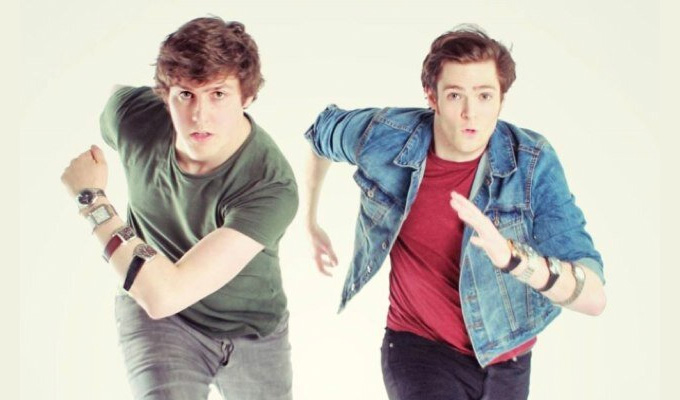 Thünderbards: Seconds
Note: This review is from 2014
This year, the grouting between Thunderbards' sketches is the idea they can travel in time, allowing them to visit their relatives in history. It also sets up a throwaway line that as a sketch duo they are 'stuck in the past', one of several in-jokes that pepper the set.
True, as two middle-class white boys displaying a limited acting range, they certainly fit an archetype, verging on the smug. They are, however, distinguished by some inventive writing that likes to wear its cleverness on its sleeve. The largely cerebral script is not consistently strong, but it certainly offers enough to satisfy.
A recurring dynamic is that Matt Stevens is the suave, good-looking one, giving his dating tips to the nerdy, nervy Glenn Moore – and trying to deter him from deploying his newly-minted, and bizarre, catchphrases. There's another running tread that Stevens is to branch away from the duo with his own show, Do You Speak Farsi, Mr Darcy? Neither of these is particularly significant, just a way to stretch out a gag to make the show seem less 'bitty'.
But 'bitty' it inevitably is, as the duo jump between unconnected ideas and sketches of various quality. Their best come when they can build on an set-up – the police interrogation of a blind 'witness', for example, proves funnier with each line that moves the strong initial premise forward. But other times the oddness of the idea is hoped to be enough – imagine Seal being shown around a house for sale! – with a deliberately anticlimactic payoff. It might be sold as ironically weak, but that doesn't disguise the fact that it's weak.
Yet they do display plenty of elegantly funny, offbeat writing too, drawing on Moore's experiences as a one-liner comic (and previous Chortle Student finalist) and possibly Stevens's day job as a commercial copywriter. Generally they keep their sketches tight and their performances punchy, to keep the momentum barrelling along. But whether they offer quite enough personality or quite enough great gags to become your new favourite sketch act is a moot point.
Review date: 2 Aug 2014
Reviewed by: Steve Bennett
Reviewed at: Pleasance Courtyard
Recent Reviews
What do you think?