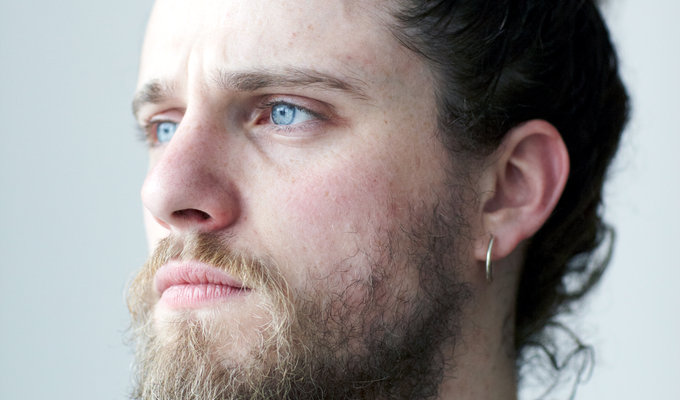 Alfie Brown: Divorced from Reality (and My Wife)
Note: This review is from 2014
No one could accuse Alfie Brown of going for the easy laugh; in fact much of this show is downright difficult, with material about paedophilia, euthanasia, the word 'nigger', and mental illness, to cover but four bases. Mere mention of these hot topics can trigger a reflex of revulsion, but even taken in the context he's careful to lay down these routines can still be uncomfortable – if not sometimes gruelling – to hear.
In many ways he's a modern-day Lenny Bruce; tackling notions that the mainstream is never going to touch, yet not always able to chart a safe passage through the choppy waters to laughter firma. He rather revels in an audience's discomfort, partly out of pure bloody-minded mischief, and partly out of thinking that he must be on to something if he's challenging their unthinkingly received values in this way.
Controversy is by no means the entire show, but the more contentious routines are the ones that will persist, especially his discussion about the age of consent, which is always going to be a difficult sell. By the time we get to this point, his early gambit about Game Of Thrones serving up rape as entertainment seems positively jaunty in retrospect. 'Saying something real,' is a crucial mantra for this intense comedian with a virulent hatred of small-talk, which he mocks savagely and hilariously.
Questions of taste have been concerning him for a while, not least after dying in front of an audience that slathered at the prospect of a forthcoming appearance Roy Chubby Brown. It comes as no surprise to learn that Brown – the non-Chubby one –  is firmly against the lad culture, which he takes down with an attitude and insight that many less skilled antilad comics lack.
That's not to say he hasn't got dick jokes, it's just that they come from a unique new angle, as almost all his material does. And as the title suggests, Brown also lays down some aspects of his own life, such as the failed marriage and subsequent one-night stands, for the same uncompromising dissection as the social issues he so boldly tackles.
Charismatic and fiercely intelligent, Brown is frequently very funny, with a varied arsenal that ranges from surreal asides to imaginative leaps of logic. But he also gets on his soapbox for causes audiences are understandably reluctant to rally around, making him too alternative even for Stewart Lee's Alternative Comedy Experience, by his own account.
The mixed bag makes it is hard to unequivocally recommend Divorced From Reality (which is overlong, too, at least in preview) even though Brown remains one of our more intriguing and original comic voices, producing a show that's fascinating even when it's not funny.
Review date: 1 Aug 2014
Reviewed by: Steve Bennett
Reviewed at: Pleasance Courtyard
Recent Reviews
What do you think?