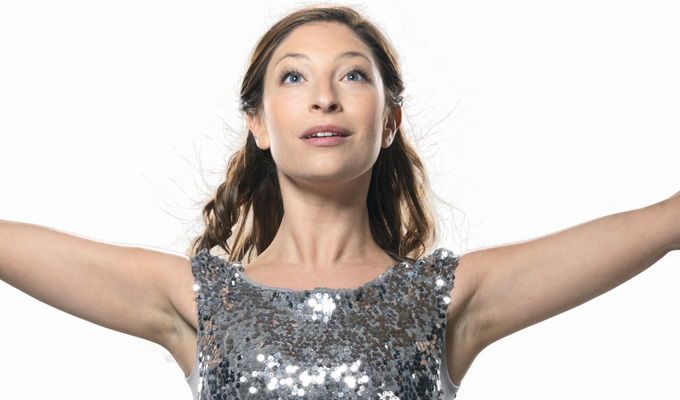 Jess Robinson: Mighty Voice
Note: This review is from 2014
It's hard to envisage a world in which Jess Robinson will not be a star. She's a peppy performer with a powerful singing voice, an uncanny gift for mimicry and good looks.
And it's the combination that's the killer. The cornerstones of this hugely entertaining debut are the 'wheels of 64-tune' that offer that many possible permutations of singer and song. Tonight this throws up such wonderfully incongruous juxtapositions as Katherine Jenkins belting out Rappers' Delight, Edith Piaf tackling Ace Of Spades and Lily Allen performing 500 Miles in her Cockney sing-song, so effectively that this would surely make an excellent cover version for real. What subsequent audiences hear over the festival will be entirely different, of course.
Robinson is supercharged with energy, too, which she expels writhing around the floor in a Kate Bush montage, or screeching around the room in Bjork parody. It's a big, bash cabaret performance that relies on strength of personality more than well-crafted jokes – a good job given the sometimes patchy nature of the script. Banter with pianist Kirsty Newton, the musical powerhouse behind so many Fringe comedy shows over the years, can seem stilted, while the skits that don't deploy Robinson's musical mimicry inevitably pale in comparison with the big numbers.
However, the exaggerated caricatures of mainstream names like Sharon Osbourne or Cheryl Cole, as well as the icons of music, are inherently funny characters. Like others before her, Robinson gets laughs from reading he inanely leaden prose of Jordan's autobiography, but the bored Sussex monotone and legs-wide-open stance adds an extra layer.
But it's the magnificent musical mash-ups which are the big draw – and provide her with the ultimate showstopper, an eight-minute medley featuring more musical stars than a Now That's What I Call Music album. You'll be hard-pressed to find a better finale on the Fringe.
Review date: 1 Aug 2014
Reviewed by: Steve Bennett
Reviewed at: Pleasance Dome
Recent Reviews
What do you think?