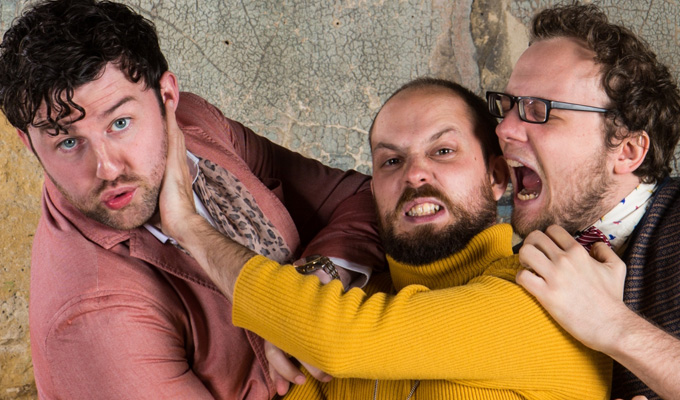 Beasts: Solo
It's an unwritten rule of sketch comedy that troupes must be forever bickering, at odds with each other to create some dramatic tension. Beasts have taken that to extremes, both in their violently physical showdown and by unequivocally deciding that they should be a comic trio no more, and instead follow their own solo projects.
Owen Roberts, who dresses like a model from a 1970s Norwegian menswear catalogue, wants to be a serious actor and dramatist, presenting a play what he wrote about Nelson Mandela's inspirational life. James McNicholas wants to be a magician, the flamboyant presentation appealing to the same showman side that compels him to milk his entrance with a protracted, hilarious silly walk in the Vic Reeves vein. And Ciarán Dowd wants to get into burlesque, as getting his kit off is apparently the only thing that a man of little talent and even littler intellect can achieve. (Not true, incidentally, away from the stage persona he has has much to offer in rambunctious performance).
Thus Beasts abandon the short-form sketches they've previously presented at Edinburgh – save for one oldie-but-goodie that they serve up three ways to illustrate their artistic differences – and try to share the hour among their three solo projects, despite apparently having little in common. Yet it is not, primarily, what is being presented in these three strands that is important, but what is going on behind them, the very different motives and personalities of all involved adding a great extra level of humour to the boisterous Knockabout on the surface. So even if the cheesy magician is a cliché, the bigger picture offers a lot more fun.
The trio bring a lot to the table; they are convincing larger-than-life performers, whether parodying improv troupes, serving up supposedly mind-blowing political satire, or imagining the love between Nelson and Winnie as a melodramatic romance, complete with (inappropriate) swelling soundtrack.
Energy, commitment and sheer outrageousness drive the silly to hilarious extremes, while the show is much more robustly constructed than their superficial shambles suggests. This is surely funnier and more rewarding than disconnected sketches would ever be, as Beasts build to a suitably over-the-top finale that guarantees a smile on every face.
Review date: 31 Jul 2014
Reviewed by: Steve Bennett
Reviewed at: Pleasance Courtyard
Recent Reviews
What do you think?