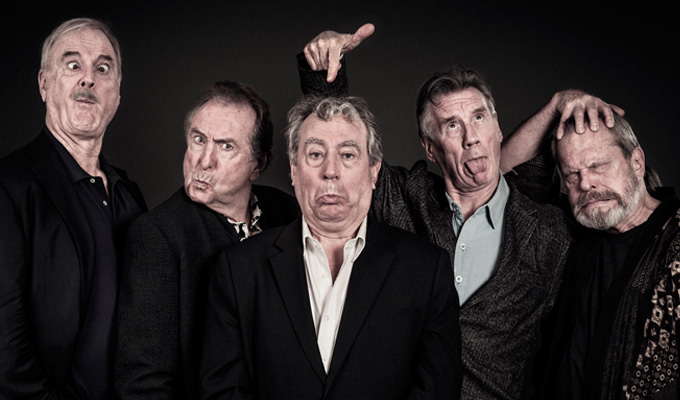 Monty Python Live (Mostly)
Note: This review is from 2014
For fans it's a combination of nostalgia and the cult of celebrity, depending on whether they made an indelible mark on your upbringing from the first time around – or have been swept up in this year's hype; the sort of marketing overdrive that a reunion tour of Jesus and the Disciples couldn't match – and that no mortal could ever live up to.
People have to say they were here – that's the most important thing. Sketches are performed to a sea of cellphones capturing blurry images of the familiar.
For we all know the lines so well; that's one reason why the One Down, Five To Go shows at London's O2 arena have been likened to a big rock tour. Everyone wants the parrot, the spam and the cheese shop. Surprise, the whole emotion on which comedy traditionally turns, has been replaced by its enemy, familiarity.
Yet by offering new twists of presentation, they sometimes make something new – the creative, choreographic work-around for the fact that John Cleese can no longer do the silly walks, for example, was a hit. The penis cannons – don't ask – were a nicely outrageous touch too, in a show that generally seemed far too conventional.
No matter how jaded or cynical, the opening to I'm A Lumberjack, Always Look On The Bright Side Of Life, Nudge Nudge Wink Wink and even the Liberty Bell theme tune itself can't help but send a shiver down the spine of anyone who knows about these things. And has any sketch ever started better than 'Is this the right room for an argument?' 'I told you once...'
Yet plenty of scenes seem a bit flat, too... a cursory run-through of over-familiar material, making the jokey comments about only doing this for the money ring true. The Bruces sketch being the prime offender. Other sketches have not dated well – especially camp homosexuals or judges wearing women's underwear under their robes; a once-provocative idea now beyond cliche.
Performances were patchy, too. Terry Jones could be seen reading the trickier material off cards as the boss of the Spam cafe and the unconventional chocolate company - yet Eric Idle deftly delivered the complex lines of the anagram obsessive with admirable verbal agility.
It was Idle's sensibilities – plus Terry Gilliam's visual design – that run through the show. He's clearly brought the lessons of Spamlot, which he wrote with this show's composer John Du Prez, to bear on the sketch format, interspersing them with song-and-dance numbers choreographed by Arlene Phillips. It added spectacle, but not always brilliantly: Remixing the words of the Nudge Nudge sketch as if Jive Bunny had got to it and setting it to dancing girls in lingerie, Hot Gossip-style, might make you think the Eighties were still here.
Costume changes demand we watch some clips on giant screens, too – which allowed us to watch scenes – such as the fish-slapping dance and anything involving Graham Chapman – that can't be created live. But even if arena comedy necessarily involves watching TV, this archive footage you'd be better off watching at home dulled the atmosphere – Gilliam's brilliant animations excepted.
Moments that shone brightest were the rare times when the team became human beneath the big numbers and well-rehearsed script. A little corpsing here and there, a brilliantly-judged pause by Michael Palin in the guise of a 'drab and awful' accountant seeking careers advice; and he and Cleese sharing a private joke in the midst of the cheese shop sketch.
The new filmed sketch featuring Professors Brian Cox and Stephen Hawking taking on The Universe Song worked well, too. Such touches suggest the team have still got it in them – as their solo projects attest – but too infrequently did they exert themselves here, or even seem like they were genuinely enjoying it.
The show does the least of what's expected of it, but rarely even tries to offer more; which is a shame.
Review date: 3 Jul 2014
Reviewed by: Steve Bennett
Reviewed at: O2 Arena
Monty Python have transcended comedy. This is not a gig, but an EVENT! A show that forever screams how much you are watching Something Special, full of the sort of big production numbers that genre-redefining icons of the art demand.
Recent Reviews
What do you think?