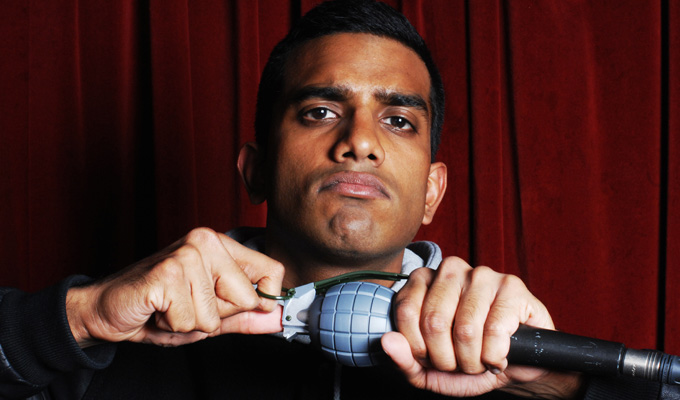 Aamer Rahman: The Truth Hurts
Note: This review is from 2014
Aamer Rahman makes no apologies for the heavyweight issues he addresses in this most serious of comedy shows.
He thoroughly tests the theory that nothing is beyond the healing salve of humour when he makes observations on the barbaric murder of Lee Rigby, or at least the circumstances surrounding it. Yet when it comes to his native Australia's more corporatised brutality towards asylum-seekers, he finds his wit fails him, and he can only let the seriousness of the issue hang heavy in the air.It's testament to his mesmerising delivery that Rahman – half of the
Fear Of A Brown Planet
duo – can hold the room so rapt without breaking the tension with a joke, in defiance of both stand-up convention and his usual style. Many of the laughs over the hour come from anticipation. In a country backwater, where his skin pigmentation alone proves cause for suspicion, he only need draw the picture of himself as a rebellious teenager deciding to blare Sound Of Da Police from the car stereo, and we chuckle in expectation of the indignity that will ensure. In a rare example of bathos, he gets the same laughs of anticipation from announcing that he's going to deconstruct Alanis Morrisette's Ironic – although even if he doesn't quite go down the most obvious route for this old comedy staple, observational pedantry isn't his strongest suit. Politics clearly is, and with Tony Abbot in power back home, he has plenty of raw material to draw upon. Indeed, at times he need only report actuality with a well-timed pregnant pause to elicit the laughs. But although he most assuredly talks the talk, Rahman's best stories come from personal experience: his failings to be the bravest direct protester against detention centres, or how he accidentally found himself in an underground gathering of neo-Nazis.Such is his presence that he makes a most convincing liar – enabling him to use bait-and-switch to devastating effect. But he excels in making us feel slightly uncomfortable about the global status quo, and the suspicion often hanging over those who happen not to be white. When he combines that difficult truth with an edgy joke – such as his honest, if questionable reaction to the Anders Behring Breivik slaughter – the daring pays off with impressive results.He doesn't always get the balance right. Sometimes as he keeps you waiting for payoffs, you can figure them out for yourself; and sometimes a little more wit would nudge the material out of the preachy category. But his is an important, outspoken voice that brings something different to the stand-up landscape.
• Aamer Rahman: The Truth Hurts is on at the Soho Theatre until June 21.
Review date: 12 Jun 2014
Reviewed by: Steve Bennett
Recent Reviews
What do you think?