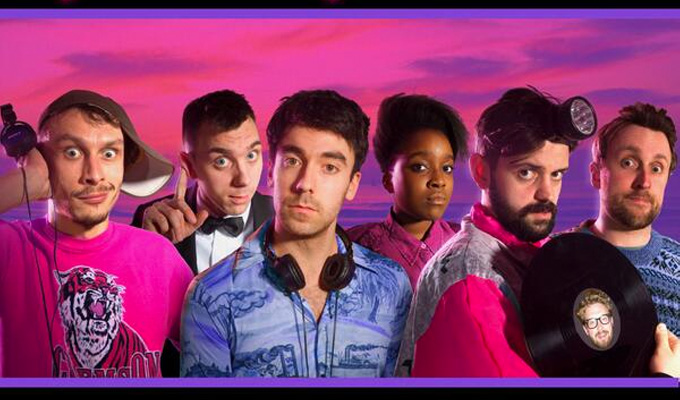 The Bearpit Podcast (Podcast)
Note: This review is from 2014
What did East Anglia's thriving media landscape ever do to deserve this? After Alan Partridge's North Norfolk Digital comes Ipswich FM's premier live podcast, The Bearpit Podcast (Podcast).
In fact, it's a little more sandpit than bearpit, as an appreciative audience let a bunch of Britain's more promising young comedians playfully experiment with daft characters. Their reputation – and their entertaining Twitter feed suggest the podcast might be one huge comedy in-joke, but it's actually a far more accessible hour of witty mucking about, unembarrassed about being rough around the edges.
Last night's monthly episode was based around the theme of science, and is the first draft of one of seven shows the team plan to take to this year's Edinburgh Fringe and rotate daily. Key member John Kearns was absent, still en route from his acclaimed run at the Melbourne comedy festival, but certainly his slightly shambolic spirit was present and correct.
It was set up as a series of TED-style 'PIT Talks', all introduced by Fin Taylor, who subsequently interviewed each character – thus offering a mix of loosely scripted monologues and even looser ad-libbed interaction, with varying degrees of success but always with an infectiously silly spirit.
First up was Mat Ewins as weather expert – and I hope I got this name down correctly – Dr Samuel Pupoptkin–Carburettor, established the technological level of the show with his home-made head mic, and the scientific level by dedicating much of his slot to the finer points of a particular BBC Weather graphic. His daft talk offered some strong gags, and he proved an adept improviser in conversation.
Richard Gadd matched that with his entertaining geneticist, who both exploited and undermined the 'mad scientist' archetype. Adam Hess's excitable, posturing futurologist provided a nicely misjudged glimpse of the future from his 1987 viewpoint, although he was a little more adrift in the interview hotseat; then Matt Winning presented his surreal, PowerPoint-heavy, research into cats on the internet – which was the only segment of the night that struggled to catch light, even with the appreciative crowd.
Lolly Adefope, as a scienceologist at odds with the Scientologists, often got a bit bogged down in the detail of that dispute – but would rescue the situation with with a shamelessly bad joke or a genuinely sharp one.
The podcast (podcast) is, however, more than the sum of its parts. Like other collectives such as the Alternative Comedy Memorial Society, it fosters a spirit of innovation and fun, where experiment is welcomed – nay, encouraged – by the audience, as long as some of the wilder swings end up in a comedic home run. Being at this 'recording' (not that the podcasts are actually available anywhere) feels like being a small, rewarding part of an exciting creative process, which – understandably – isn't always true of conventional comedy nights.
Review date: 29 Apr 2014
Reviewed by: Steve Bennett
Recent Reviews
What do you think?