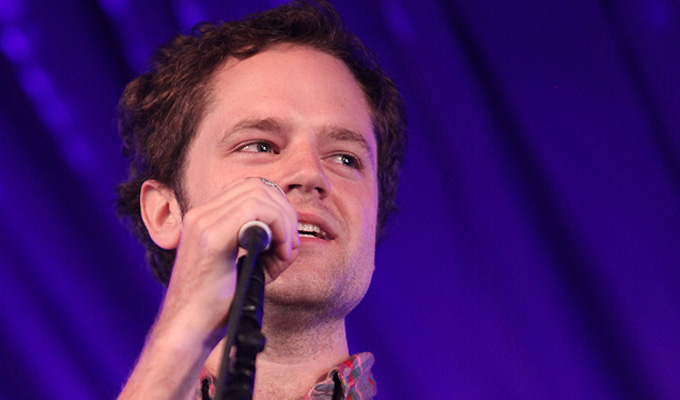 Musical Comedy Awards 2014 final
Note: This review is from 2014
There was a contest, but there was no competition. David Elms won the Musical Comedy Awards last night, standing head and shoulders above the other finalists for the wit and invention he brought to a much-maligned genre.
His soft-spoken style stands in contrast to the energetic hoopla of many who brandish a guitar, but he has the distinctive and funny material to make it work. His preamble set the perfect tone of resigned acceptance right from the start, when he countered the audience's muted enthusiasm for his welcoming 'Hi!' with a taste of their own uninterest, before cracking a couple of self-deprecating gags with expertly delayed timing.
Elms also brought hilarious attention to the here and now of the gig, pointing out the solitary figure in the circle of the Bloomsbury Theatre or calling back to a previous act's joke. He proved himself in command of the room before he'd sung a note.
His songs included the tricksy Phonetic Love, cleverly incorporating the Nato alphabet but also subverting his own premise, and That Really Messed Me Up, a similarly quirky take on the misery ballad, making mountains out of emotional molehills from his youth.
With a routine that never follows a predictable path, and perfectly poised delivery, Elms deserves not only this title, but many other plaudits besides.
Second place went to the first act on the bill, the unflappably good-humoured Cribb and Morgan. They are a much more traditional – dare I say formulaic – musical duo with some good ideas who nonetheless tend to fall into the main trap of the genre: not being able to sustain or amplify the initial gag for the duration of a song.
Wondering what happened to the girls of Louie Vega's Mambo No 5 is an inspired starting point, but they can't deliver on that, while their song about TV and movie spoilers isn't much more than a list of pop cultural references, striking cords but not so many gags. Talking of buzzwords over content, their final song was about the hook-up app Tinder, which already feels like a tired comedy trope, and their lyrics largely the stuff of uninventive stand-up.
Though the pair (David and Simon respectively) are likeable and with a handful of funny flourishes, it would be a swipe left from me.
Elms was on next, followed by Bob & Jim with the first, and thankfully only, ukulele of the competition. They cut the figure of a couple of Cock-er-ney geezers promising a good old-fashioned knees up; a music-hall act fallen out of their time. Indeed their opening number takes the notion that inspired Paul Whitehouse's Arthur 'where's me washboard?' Atkinson character and multiplies it, with countless now-meaningless catchphrases bundled into a full, jaunty song.
Some of their gags are as old as their shtick, but their patchy set contains some delightfully silly moments, such as their Beyonce-inspired number, as well as some duds. Bob & Jim sell their material with ample cheesy charm, but the audience tonight must have been lactose intolerant, because they didn't go down too well at all, and the set started to drag. Such a sluggish reaction was probably undeserved, but their lack of consistency did them no favours.
Laurence Owen also couldn't sustain the quality over his allotted time, which is a shame as he got off to such a strong start. He looks like a distinguished chap, but beneath that elevated exterior beats a heart of darkness, which his opening number, ostensibly about sexy Halloween costumes, exploited well. Every line was a gag, so even if some were obvious, they are packed in admirably tightly.
Though he has a cruel misanthropy reminiscent, at its best, of Andrew Lawrence, his set became a bit samey with the following two songs, one about his young sexual awakenings, the second about a quartet of prostitutes boasting about the implausibly large sizes of their vaginas; a good ole twanging ditty that certainly takes the 'O' out of 'country music'. He's a committed performer, too, commendably giving his all to his energetic tracks. He took third, but is certainly one of the more interesting acts on the bill, if only he could widen his range.
Rogue 5 are an increasingly inaccurately named boy band – once with four members, now with just three. They have buckets of charismatic star quality but are let down with a near-absence of wit of originality. Their 'make some noise!' shtick, musical talent and well-choreographed dance moves rouses the rabble, who oblige with the required whoops, but beneath all the showmanship there is little of interest.
A poor lad's Midnight Beast, their opening song creepily casts them as borderline paedophiles asking girls if they are old enough, while in the second they drool over women who look 'fit from far away' but are mingers up close... although they do dedicate one verse to a man with the same condition, possibly as a counter to easy-to-make allegations of casual misogyny. For their third number, about a bromance, they flirt over-physically with an audience volunteer which seems intended to be funny because it's men fancying a man. Imagine!
For a trio with obvious youth appeal, their attitudes are decidedly reactionary, and at times they make Keith Lemon look like Daniel Kitson. Those times include when they told a female audience member they wanted to 'smash her back doors in', the old charmers. Nevertheless, their pizzazz might make them a success, which is a depressing thought.
Contest over, the second half showcased more musical acts, starting with this year's Musical Comedy Award best newcomer, Irishman Steve Bennett, looking like a refugee from a Guinness advert with luxuriant beard, waistcoat and even green trousers. He has a nice line in introductory patter, avoiding cliches with his 'what do I look like?!' material, while his deliciously mean-spirited song about parenting was a classy number. The set could be tightened in some quarters, but he is clearly an adept entertainer with an engagingly wry sense of humour.
Next up 'Pancreas', an earnest singer-songwriter in knitted tank top who could have come from a distant branch of the Mumford family tree, singing a melodic ballad about bullying disguised as 'banter'. The character is a long way from creator Pippa Evans's best-known alter-ego – the unhinged American rock diva Loretta Maine – but is fully-formed with a strong line in songwriting. Even if the subject matter was a little old hat, the packaging was superb.
'He' was followed by Jay Foreman, who came third in this competition in 2010 - a point made by comperes Horse & Louis, who were runners-up that same year. Incidentally, the hosts, without their instruments, made for rather perfunctory comperes. A party game got the energy up, but the rest of the badinage was affable enough, but didn't really spark.
Foreman had a engaging line in tainted whimsy, bringing a dark undertone to the vivid, precise details of his low-key songs – which again benefited from being brief, the Human Skin Sofa track rather outstaying its welcome. But his signature piece, lyrically recalling all the London Tube stations, never fails to impress.
Finally, Evans returned as hot mess Maine, vocally insisting she was a Strong Independent Woman (mostly), even if occasionally falling under the spell of the White Wine Witch. There's an epic feel to her compositions, almost if they belong in a musical, and the intensely committed performance sells them well. And by ad-libbing a song about George in the front row, based simply on the fact he had a coat since he was unforthcoming about volunteering any further information, proves he talents as an improviser,too – as anyone who's seen her in Showstopper! will already be aware.
Review date: 26 Apr 2014
Reviewed by: Steve Bennett
Reviewed at: Bloomsbury Theatre