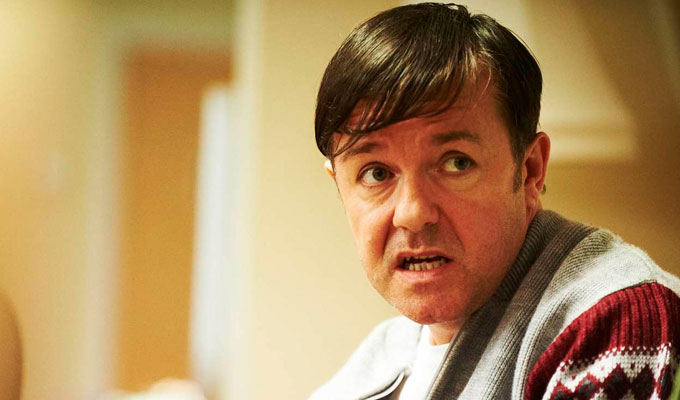 TV review: Derek
Note: This review is from 2014
Broad Hill care home is an idyll by comparison to some residences for the elderly, but in the second season of this docu-sitcom Ricky Gervais sharpens the enemy within.
That enemy comes, largely, in the shape of new employee Geoff, played by Colin Hoult. Though I cannot claim to have always been a fan of Hoult's live character work, Geoff, who owes something to Gareth in The Office, is a creation born of sinister malevolence, a quality that Hoult has always been particularly adept at portraying.
In this first episode, Geoff's presence merely simmers, before boiling in later episodes, but it is already enough to put Dougie (Karl Pilkington) off his stride.  Is Broad Hill big enough for the both of them?
While we wait to find out, Dougie puts in a few classic lines, as if to remind us of his strengths. 'What do you want me to do with it, deport it? Send it to prison for having too many legs?' he moans of being sent to get rid of a spider in the men's loos.
While Geoff is not an instant fit, Vicky (who has already identified the new bloke as a 'wrong'un') is part of the family now and her rough edges are, well, still rough, but accepted and not rubbing against anyone inside the home. Meanwhile, among her bona fide gifts to the community are beauty treatments and social media savvy, extending to getting Derek signed up to Twitter.
Derek's dad is a new arrival from the last episode of season one, of course, and he seems to be settling in rather too well: flirtatious, loquacious, and just a little bit too reliant on the sauce. However, it's the drink problem of Kev (David Earl) that is in the ascendant in this episode, with him - literally - stooping to new lows to sate his thirst.
Derek, ever the innocent, is perturbed by these situations, but there are always animals to keep him happy. If there was a political message to Derek, it would surely have to be 'be kind to animals'. All the more shocking, then, when sly, bullshitting Geoff tried to warp Derek's faith in the animal kingdom with apocryphal tales of 'humanzees'.
Kerry Godliman's Hannah, ever in the thick of it, keeps smiling for the residents and the cameras. She may have other reasons to smile soon, with family planning underway with Tom (Brett Goldstein). Derek is too excited to keep this under his hat, prompting a fine comedy moment when Tom's nan reminisces about her conception efforts with Tom's grandad.
It's a fine start overall, with numerous emotional responses neatly housed within an ultimately safe environment. 
Though Gervais considers The Office's reality doc style 'quaint' in comparison to today's shows, you have to wonder about the apparent lack of journalistic imperative that the Broad Hill documentary film crew demonstrate. Can you imagine a film crew so beguiled by sweetness and light? After five minutes of that you would half expect the average crew to be trying to fabricate some kind of panic or emergency.
Still, Ricky Gervais has left cynicism at the door for Derek and that clearly means extending poetic licence even to hard-to-reach areas like the press.
Review date: 23 Apr 2014
Reviewed by: Steve Bennett
Recent Reviews
What do you think?