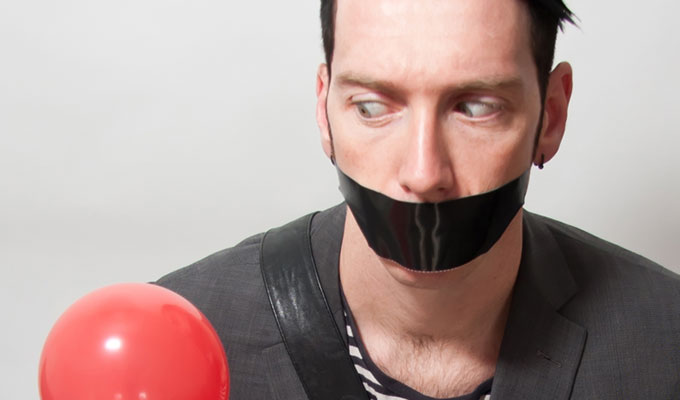 The Boy With Tape On His Face: More Tape
Note: This review is from 2014
Nearly two years after making its Edinburgh debut, The Boy With Tape On His Face's brilliant second show retains every morsel of its joyous appeal.
The hour is a playtime for adults, all the participants in the daft games perfectly chosen by the comedian silenced by gaffer tape – even if he has to run to the very back of the audience to get them.
Once on stage, they are handed household items and given mimed instructions, which they try to follow, usually with some difficulty. The Boy mocks their attempts to copy him with faux-frustration, teasingly berating them for their stupidity; while the rest of the audience, crucially, sympathise with the volunteers' eagerness to please. The moment of realisation on the volunteer's face, when those dollar-store props suddenly transform into guns, or light sabres or a bulls' horns, or whatever their 'real' purpose, is priceless.
Then the game is on, and the whole room invested in the pretence. You just have to witness the cheer when a ping-pong ball lands in a plastic dustpan to know that, or the fact he can elicit an affectionate 'aaahhh' from just a pair of oven mitts.
Some of the audience wrangling basic craft from the street entertainment where The Boy – known to his bank manager as Sam Wills – learned so much. Yet he goes way beyond that, with the sheer scale and breadth of his whimsical imagination creating magical moments every few minutes – not to mention a spectacularly memorable finale that brings out a sense of glee in everyone.
The attention to detail is meticulous, too, adding to the richness of the experience, even the smallest gesture adding to the experience. Meanwhile, the foreshadowing of future sketches gives the disjointed scenes a sense of being part of a whole. There are also enough variations in the format, especially with The Boy presenting some solo tableaux, to keep things interesting.
All of which makes Tapeface a well-deserved nominee for the prestigious Barry Award – as this silence really is golden.
Review date: 19 Apr 2014
Reviewed by: Steve Bennett
Reviewed at: Melbourne International Comedy Festival
Recent Reviews
What do you think?