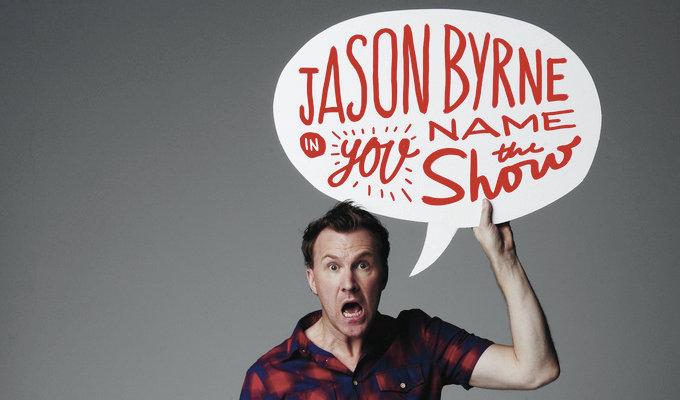 Jason Byrne: You Name the Show
Note: This review is from 2014
After making the same grand, attention-grabbing entrance that wowed on last November's Royal Variety Performance, Jason Byrne spends the first few minutes of his show in his vest and undies, a hirsute merkin spreading its hairs from our between his legs.
The look baffles the latecomers, with whom Byrne has much high-spirited sport, and also emphasises the impression that he represents the grubby little imp that lurks beneath all of our veneers of civility. The hour revolves around ballsacks, arseholes and sex... God knows what the family, in front row centre, who brought their 12-year-old daughter with them were thinking.
The material – no great departure for him – is not sophisticated or mature, but it is damn funny when delivered with such energetic, devilish abandon and heightened over-reactions to body parts and functions. His horror at having to take a suppository to treat a painful testicle is the perfect storm of below-the-belt ickiness, which he describes with an emphatic exaggeration that delivers the laughs.
His trademark quick-witted banter with his audience – all of whom are 'mad feckers' behaving with hilarious irrationality – further defines the freewheeling spirit of boisterousness. Any minor distractions fires him off onto brilliant tangents, and the importance of that 'in-the-moment' feeling that the audience are witnessing a unique version of the show, which they helped cause, should not be underestimated.
Some of the material about an antagonistic war of attrition between husband and wife falters a little, relying on the unappealing stereotype of a marriage, but even so there are strong gags, delivered from the point of view of the henpecked loser, his spirit crushed and only allowed to flourish when he's on stage.
The 'you name the show' gimmick of the title is largely irrelevant, if you were wondering, just a marketing device that's sensibly reduced to a slideshow of, largely unimaginative audience-submitted suggestions at the end. But who really needs a title, when you've an hour of such gloriously entertaining, if crude, high-jinks.
Review date: 19 Apr 2014
Reviewed by: Steve Bennett
Reviewed at: Melbourne International Comedy Festival
Recent Reviews
What do you think?