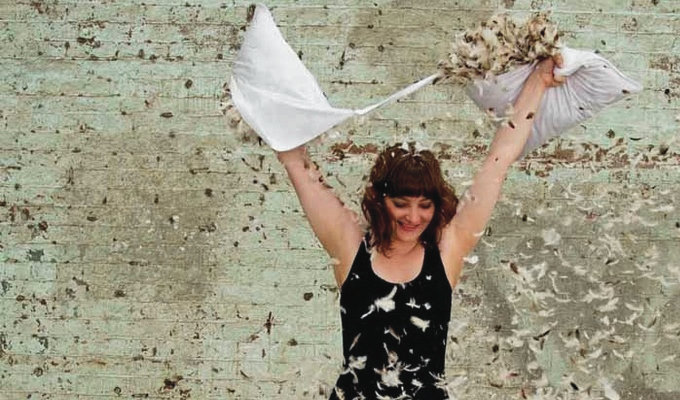 Laura Davis: Pillow Of Strength
Note: This review is from 2014
Refusing to play things safe, Laura Davis makes a bold stab at a big subject in this ambitious show, picking away at a few of her own emotional scabs in the process.
The theme is toxic relationships – whether it's between parents and daughter, boyfriend and girlfriend, comedian and audience, organised religion and impressionable minds, or even corporations and society. 'I love you, but I don't like you' is the constant refrain, and the ultimate message is that we shouldn't bullied by those who seek to undermine our self-esteem to cover their own shortcomings.
Mercifully most of this this is made funny, thanks largely to Davis's supercharged performance. She delivers loudly and with a compelling physicality, using the intimate basement space well, even standing on a chair to loom over us, half out of the light for extra dramatic impact. There's a cheeriness even to stories which aren't inherently cheery, as she takes ownership of the situations she was put in.
The most obvious one to discuss is the older boyfriend who constantly called her 'fatty' and set rules about what she should do with her body and forbidding her from dancing – which makes it sound like she was dating the Taliban. She insists that she never thought of this as controlling behaviour at the time, which adds some complexity to the story.
Likewise, her exploration of the comic-audience co-dependence goes beyond her simple need for validation, and she confronts and niggles those who have paid to see her. It's a treacherous path between being provocative and alienating, and her considerable charm navigates it well – although she possibly pulls her punches a little, too, thus keeping the atmosphere nice, even when she's ostensibly trying not to be.
Her abusive relationship with McDonald's is a less assured, less credible, segment, even if her thesis about the dynamics of comedy gives her a perfect free pass for anything that doesn't quite come off. Yet most things in this smart, thought-provoking yet accessibly funny show do come off, as Davis grows in confidence both as a performer and a writer over previous festivals.
Review date: 18 Apr 2014
Reviewed by: Steve Bennett
What do you think?