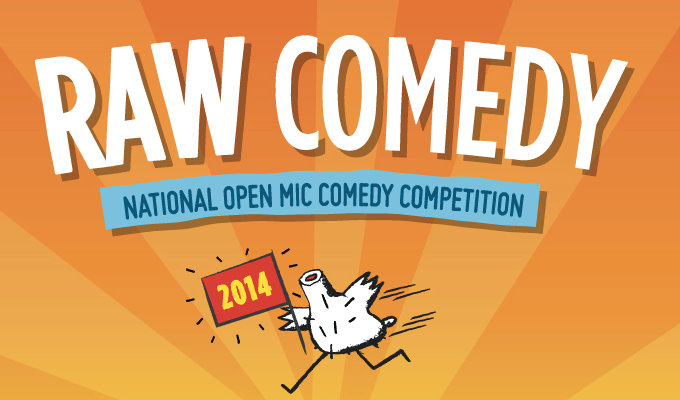 RAW Comedy National Grand Final 2014
Note: This review is from 2014
The most notable aspect of the Raw comedy final is how at ease most of the new comics appear, despite their relative inexperience. For one finalist it was their second time on stage but he, and the others, seemed unfazed by the idea of performing in front of 1,500 people in the vast room and a TV audience at home.
If anyone seemed nervous it was host Ronny Chieng, who stumbled over all the facts and figures and sponsors and precise title of the event at the start of the show. But he recovered well – combining abject apologies with anger at himself. As he said, now he'd screwed up, the pressure was off the contestants – and for the rest of the night he ran things smoothly.
Cyrus Bezyan was a good choice of opening, both here as he would be on any bill. He approaches his observational comedy from an unusual angle, and deploys a quirky turn of phrase to capitalise on that. Silly ideas are presented relatively straight, with well-judged physicality or facial expressions to bring them to life. He's a confident performer, as well he might be, given the strength of his material.
What he started, Matt Stewart amplified, proving himself an even more off-kilter thinker, with a thoroughly engaging way of presenting his distinctive ideas. He's slightly self-deprecating, especially about his lack of vocal range – which is the default modest setting for many a comedian – but this is combined with an artful deconstruction of the techniques of stand-up, used sparingly to heighten already strong routines. He's shameless but inventive in inviting applause, and put a twist on his own sincerity that really appeals. And in the end, that was more than enough to secure him the Raw title for 2014, deservedly so.
Queenslander Jennifer Burke had a strong stage present and instinctive comedy timing, but the content was disappointingly old hat – covering vibrators, smear tests, Brazilian waxing and weed-smoking, and failing to look beyond the cliche on any of them.
From the comedic wasteland of the Northern Territories, Michael Kelly was the final's absolute newbie, so it's little surprise that his material requires more honing and more twists. Yet he has the kernels of decent routines and, more crucially, a natural, unaffected energy that easily endears him to the audience. That's enough to want to see what he's like after 200 gigs, rather than just two, but that might take a long time coming in remote Darwin.
Megan McCrea was notably more hesitant in her delivery, and she milked the misunderstandings her Kiwi accent caused way beyond its potential for humour. The middle of her three stories on the topic, about working in a cold-calling centre, was the funny standout, the others seeming like padding even in such a small set. The rest of her routine, about a brutally judgemental beautician could do with sharpening, too.
An unusual character to take us into the interval came in the form of English teacher Justin Hayward. He heightened his awkward, naive personality to shuffle on stage apologetically before carefully unwrapping a story about how his innocence about a sexual term landed him in professional trouble. It might be an obvious yarn, were it not for the joy in the details that he carefully releases, along with subtle details about how ineffectual an educator he is. Hayward's definitely a comic to watch.
Part two was opened with a guest, not in competition but the winner of a Raw spin-off competition run across India. Rohan Desai adopts the persona of a nervous newbie, reading instructions off his crumpled sheet of notes. He has great command of the silences and the awkwardness of his hesitant delivery and his ill-judged audience interactions. The gimmick shows signs of wearing thin even in a short set – but just when it looks like it's exhausted, he throws in another strong line to revive the idea. Very nice stuff.
Back to the competition, and Kerri Gay exudes enthusiasm at taking to stand-up a little later in life than most of the rest of the youthful contestants, although her material doesn't have the appeal of her personality, with rather predictable comments – including recycling the idea that blokes loutishly shouting out sexist aggression is no way to get laid for two separate jokes.
Matt Storer mines his thin, wan looks and the isolation of being home-schooled for material. The set's patchy, but there are some good ideas here, from romantic nicknames to an effective piece of audience participation based around If You're Happy And You Know It... But with other sections a little more muddled or underpowered, his inconsistency belies his inexperience. However he certainly has a decent base to work on.
With his heft, mullet, baseball cap and unkempt beard, you might have Marc Ryan pegged as a bogan and a trucker before he opened his mouth. It's the sort of prejudicial profiling he takes issue with – though in his case you'd be absolutely right. Proud of his working-class credentials, he avoids the lairiness and too many of the clichés of blue-collar stand-up to present an honest version of himself. In truth, the set's not always tight enough – it's a little too conversational without the sharpening influence of good writing – but he's entertaining company with a decent dollop of wit.
Simon Etheridge's quiet monotone is too exacting a style for much of his material. Such unenergetic delivery requires every line to be a rich delight, but his mutterings about being a lazy video game fan simply do not have the necessary weight. He might have got away with it in a more natural style, as the routine is not without wit – just pace. Much better were his musings on the messages contained in kids' stories, with the payoff rightfully earning him an applause break.
Finally, Katie Burch, whose tough, uncompromising is hugely appealing. She's mean to her kids, and to her husband, bringing a amusing cutting edge her outwardly personable demeanour. Domestic anecdotes such as failing to put oil in her car are delivered with wit and attitude, that certainly sets her apart as a comedian to watch. She was a hit with the room, and the judges (of which I was one) and her potential was rightly acknowledged with the runners-up place.
Review date: 14 Apr 2014
Reviewed by: Steve Bennett