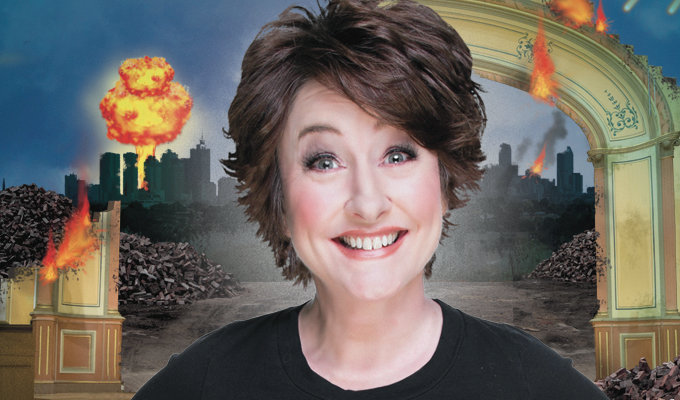 Fiona O'Loughlin: My Brilliant Career
Note: This review is from 2014
Fiona O'Loughlin's latest show is, like all her shows before this, a collection of confessional anecdotes from her chequered life and career in which she inevitably comes off looking the idiot.
An incoherent encounter with her acting hero, an ill-advised booking in Papua New Guinea, or the consequences of an all-night drinking session at a previous Melbourne festival before heading back to her Alice Springs home, all date from the days before she sobered up, and combine vicarious entertainment with laughs at the expense of her recklessness. This is not how a mother of five is supposed to behave.
Even at home, life is far from normal domesticity. Her street has more than its demographic average of lesbians, serial killers and concerned conservatives; while her husband's – or rather ex-husband's – OCD tendencies seem to have rubbed off on their son. O'Loughlin is very effective in painting this unusual tableau, creating her own eccentric but credible universe.
The final extended story in her set concerns trouble at home, when she became best friends with an American stationed in Alice Springs, bonding over comedy improv sessions and enjoying laughs she never did with her husband Chris, who became jealous. It's a messy story about a messy relationship, especially given that O'Loughlin's marriage ended a couple of years ago (though long after this anecdote was set). Chris's understandable concerns are not given much credit, and O'Loughlin's usual self-deprecation takes a back seat in favour of nostalgia for happy times. Nonetheless, she tells the story in typically compelling style, with a lightness of touch.
It's all engrossing stuff, even if this does not stand out as an exceptional show, judged against the high standards for intimate wit O'Loughlin's set for herself. But her unpretentious honesty, however bad it makes her look, is always a delight.
Review date: 13 Apr 2014
Reviewed by: Steve Bennett
Recent Reviews
What do you think?