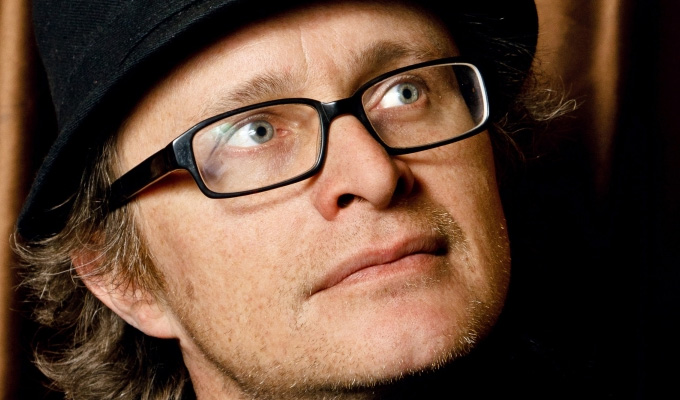 Simon Munnery: Fylm
Note: This review is from 2014
Inventing a new way of presenting live comedy has sparked Simon Munnery's biggest artistic renaissance since his League Against Tedium days.
Fylm is his second show using the technique, which involves him sitting amid the audience in a jerry-built module that allows him to project on screen either his own giant round face or the crude-but-creative cardboard animations he engineers on the desk in front of him. But although the mechanics are the same as its predecessor, Fylm Makker, this show is bursting with (almost) entirely new ideas.
Despite all the screens and cameras, the effect is decidedly low-tech, and not just because of the home-made props. Munnery is reclaiming from the internet the experience of watching someone disseminating their thoughts from their own tiny space, but with the benefit of the shared circumstances and unpredictability of a live show.
In some ways this is the do-it-yourself, subversive spirit of punk in its original form, though clearly not so shouty. And since you can't spell punk without pun, Munnery brings to his table some elegantly witty wordplay as one of the many weapons in his arsenal.
He mucks about with the cameras, introduces us to his canine cartoon duo Snifflick and Woffles, cobbles together some makeshift news graphics, shares a deleted scene from Romeo And Juliet, and explains where Watson and Crick got it wrong in their description of the DNA molecule – and that's all in about six minutes of the show. The proof of Pythagorus's Theorum with a twist comes later...
The tone is is both erudite and silly, with an intelligence, wit and originality defining every scene, while further atmosphere is created by the hypnotic guitar-strumming of Davey Willis behind every scene.
There are wonderfully pithy one-liners, and every idea is so original that you can only stand in awe of the fertile comic brain that created it, even when scenes veer to the indulgent or the curiously precise. There are, for example, some peculiarly Australian references to things such as Anzac biscuits, or the Myki card used on Melbourne's public transport.
But we forgive him this for his charm, like a distracted but passionate Oxbridge don whose lifetime expertise is in making cardboard cutouts Munnery says his ideal review would state that his show is 'funny, deeply profound and seemingly insane'. Well, two out of three ain't bad...
Review date: 15 Mar 2014
Reviewed by: Steve Bennett
Reviewed at: Leicester Square Theatre
Recent Reviews
What do you think?