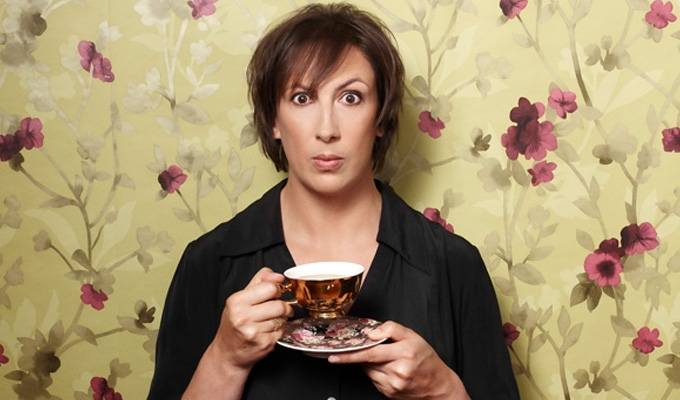 Miranda Hart: My, What I Call, Live Show
Note: This review is from 2014
Miranda Hart surprised many when she announced her arena tour. While her TV success meant she *could* leapfrog the usual progression of ever-larger venues and plunge straight in to the big ones, was it wise? As a relatively rusty live performer, was she ready for such vast spaces?
Any such fears are quickly dispelled. After all, arena gigs are more like TV shows than comedy-club gigs. The key is to interact with the camera, rather than intimately with the audience, and Hart has certainly mastered that.
What's projected on the giant screens at most megadome gigs is a faithful representation of what's on stage, just magnified; but in Hart's show there are well-rehearsed close-ups and cutaways, as she addresses asides to a camera, positioned stage left to capture her double-takes in close-up.
That's not to say she didn't involve the audience. The conceit is that Hart is hosting a party, and she doles out Doritos and Skips, or orchestrates the crowd in a chorus of murmurs to replicate a posh drinks party, punctuated with the occasional cry of 'Such fun!'
Even outside of that catchphrase, she says the word 'fun' a lot, taking our mind off the fact that's last adjective you'd associate with a brutal concrete arena. Hart believes life's for enjoying, and her feelgood, cheeky but 98 per cent clean act has the broad appeal to bring out family audiences all out for a good time. They all join in the karaoke I Will Survive with gusto, even if the comedy purist in me winces at an arena full of people doing exactly the same as the well-oiled patrons of any city-centre bar.
Hart's stand-up is an extension of her sitcom persona. Although on stage she is charming, self-effacing, camp and even confident (as you need to be with 16,000 eyes pointed in your direction), the material is a catalogue of embarrassing pratfalls and social faux pas that wouldn't look out of place on the primetime screen.
Some of it is personal, some of it more generic, and more hackneyed because of it. How many observational comics have done bits about having to suddenly change direction in the street or mistaking dwarves for children, or be embarrassed by their failing, farting, peeing bodies? I've seen scores – and the less said about a posh 41-year-old effecting the patois and low-slung trousers of the street the better. But the teenagers out with their parents on possibly their first live comedy gig shriek with delight.
To judge on material alone is tough, for Hart is not so much a stand-up as a professional joy-monger, and on that metric she triumphs, even if it is all froth and frolics.
It's not hard to envisage her as the host of a shiny-floor Saturday night show, both Ant and Dec rolled into one. When she invites a couple of youngsters on stage for a Blind Date over the interval, she is charming, generous and quick-witted, allowing the volunteers to shine and amplifying their wit.
Her strength is primarily her inelegant physicality – she skips, lollops and childishly gallops across the stage more, even, than Michael McIntyre, with whom she shares a fair few delivery traits. But more important is her charismatic likability. As someone whose stock in trade is self-deprecation she seems genuinely taken aback to get well-meaning and sincere wolf-whistles. But owning your own personality, even a clumsy, kultzy one, is appealing.
She, or her directors, know how to structure a show, and the two hours of jollity ends with a video montage satisfyingly tying up all her routines, and as the confetti cannons erupt, there's a celebratory 'be the best version of you that you can be' message that – just – dodges cheesy schmaltz.
The tour's a real tonic, and while an extra dash of originality would make it more interesting, it certainly does what it says on the merchandise, delivering 'such fun!'
Review date: 10 Mar 2014
Reviewed by: Steve Bennett
Reviewed at: Nottingham Motorpoint Arena
Recent Reviews
What do you think?