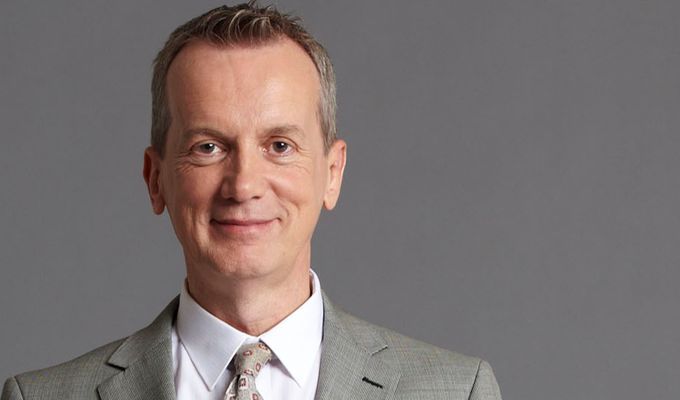 Frank Skinner: Man In A Suit
Note: This review is from 2014
Frank Skinner
as he makes his stand-up comeback after six years away. 'But I like to think I've got a bit more sophisticated.'
As a statement of intent, it's unequivocal... and undermined only by the fact it precedes a vividly explicit section about his energy-saving approach to giving oral sex and his awkward dirty-talking techniques.
Plus ça change, you may think; but this finale, catering to those of his fans who had come seeking smut, comes after more than an hour. Until then, he remains largely above the belt. Heck, he even writes haikus: what more evidence do you want that he's matured?
Not that matured is quite the right word, either, for a comic who has always mixed a mischievously silly sense of humour with his confessional anecdotes. But certainly the laddish edge which has become an integral part of his image – a little unfairly given his self-deprecating nature, but not entirely unjustified – is pretty much absent. He can deal with the lairy blokes in the front row, even inviting them to take part in the proceedings, but doesn't let them dominate, gently tapping them back in place when it's needed. Unforced crowd work is his forte, and he flows conversationally between the here and now and his prepared material. That said, the ad lib of this night came from the audience.
The deft, quick-witted interactions are part of the loose feel of a show which has no particular theme or style, seemingly just an assortment bag of disconnected, but generally funny routines, starting relatively modestly and building up over the 90 minutes. The best of them – apart from the 'knob gags with depth' – come from his own fame, coincidentally the subject of former collaborator David Baddiel's comeback show.
He pitches it just right, acknowledging his celebrity, but remaining just one of us who got lucky, struggling to know his place in that world. His brain becomes scrambled when he meet Prince Charles, for example, and he finds odd words stumbling from his mouth. And in a charming but hilarious slice of honest overthinking, Skinner reveals how being self-conscious about exploiting his fame has unexpectedly far-reaching, and potentially tragic, consequences.
It's a sharp routine, but born from being frank – no pun intended – while always keeping one eye on the gag. That's why he might touch on his Catholicism or the fact he's a recovering alcoholic, without won't risk alienation or dampening the mood by going into much depth.
One or two routines are very lightweight (there wasn't much point to him sharing the email from his agent about the sales blurb for this show) – and there's a slight sense he's still finding a angle, which would be a welcome addition. But generally the tone is as affable and jokey as you'd want, and most sections end with proper punchlines, delivered with just the right level of oomph.
For there's nothing wrong with a bit of suit-wearing showmanship, even when you're a chatty everyman rediscovering the irreplicable joys of intimate spaces like the Soho Theatre.
Review date: 16 Jan 2014
Reviewed by:
Reviewed at: Soho Theatre
'There was a time when my act was more or less exclusively filth,' says
Recent Reviews
What do you think?