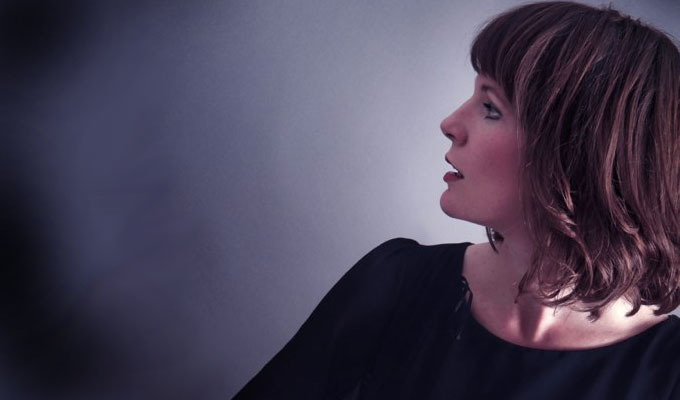 Beth Vyse: Going Dark!
Note: This review is from 2014
And a good job that is, too, for her brand of nonsense teeters precariously on a knife-edge. Entertain just the slightest doubt about this strange woman, prancing about with preposterous props, verbal non-sequiturs and eccentric ideas, and any comedy crashes down like a house of cards, leaving just an embarrassing spectacle. Yet her charismatic, convincing clowning keeps it aloft.
That, and a rewarding sense for detail. Though her scenarios heap layer upon layer of weirdness, the nonsense is (usually) well-pitched, and underpinned with a humanity – even when the character is a blind, male, China's Got Talent contestant duetting with his dead brother while rutting with a poor audience member before protesting his sexuality: 'I am not a somosexual!'
This is just one of a menagerie of characters we're introduced to... although the conceit is that many of them are all really different chapters in the story of Betsy Lynn, a faux-Shakespearean actress with a declamatory acting style.
She is about to die – or 'go dark' – so reminisces on her life, including stints as a filthy-minded Australian kids' TV presenter with a filthy puppet sidekick (Rod Hull, anyone?) or a daytime host on ITV9, one of the more straightforward personas Vyse adopts. Her odd narrative just about hangs together, if you suspend your disbelief, thanks, too, to some fine use of videos to cover her costume changes when a bizarre 'whited-up' character, broadcasting from a bus of her imagination, fills in the gaps in the story.
The show has 'cult' written all over it, with the strange imagery and weird turns of language with potential for peculiar catchphrases. She even takes what is supposedly a cliché of female comedians (although there is scant evidence for it) by getting laughs from tampons and sanitary towels. And rightly so, as her creativity with them is hilarious.
Her debut show – here getting its final outing after debuting at the Fringe last summer – nevertheless has its flaws. The energy sometimes lulls, despite her best efforts, and the script could be tightened without losing the trademark quirkiness, as some of the personas outlast their gag, or strive a little too hard for zaniness.
But ...Goes Dark is a fine calling card for a formidable comedy actress, in the best over-the-top tradition, who surely has more creative ideas up her sleeve.
Review date: 10 Jan 2014
Reviewed by:
Reviewed at: Etcetera Theatre
Beth Vyse is a bold performer, bringing flair and commitment to every outrageously surreal scene dredged up from the stranger, ill-lit corners of her mind.
Recent Reviews
What do you think?