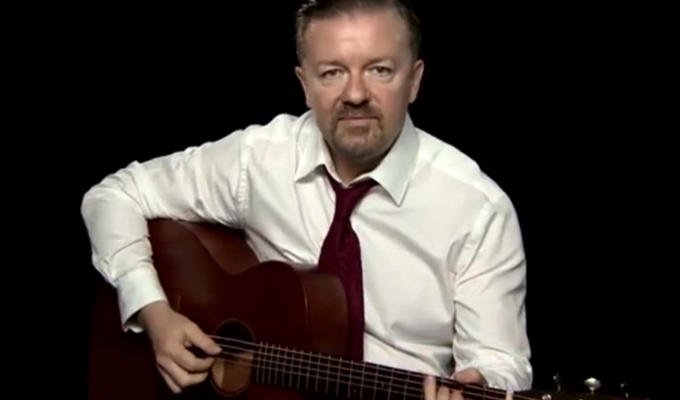 David Brent and Foregone Conclusion
Note: This review is from 2013
It's been a long time since this guy was on stage as a musician, heading a band with a cheesy name and the most minor measure of success.
David Brent, that is, and his band Foregone Conclusion (once supported by Texas). Any suggestion that the one-time frontman of Seona Dancing (highest chart position, No 79) is finally living out his rock-star fantasies is clearly preposterous.
However, Ricky Gervais can now do whatever he likes, with droves of fans flocking to see him. Touts clearly thought this show in an intimate-ish 500-seater might be worth several hundred quid a ticket, before Gervais used his clout to see them off. It's probably not too controversial to say it wasn't quite worth that...
The Foregone Conclusion project is an odd one; for the joke is that these are a musical hack's generic attempts to write music, which ends up riddled with cliché and fake earnestness. In the context of The Office, it's an intriguing element of back story for Brent's character – but would you really listen to an hour of it?
It's no vicious parody; the humour is in Brent's misguided sense that he's a musical genius and putative rock god. Though when he gets 500 people spontaneously clapping along, and giving him a standing ovation at the end of his 45-minute set, the sense of delusion is eroded.
The music actually isn't as terrible as it could be – and as a whole genre of 'guilty pleasure' club nights will attest, cheesy lyrics and formulaic music is no bar to enjoyment. Though conceived as the first spoof from Brent's back catalogue, Freelove Freeway, performed here as the encore, is actually a bit catchy. Similarly, the catchy Ain't No Trouble could happily sit as a filler on a mid-level reggae band's album – only Brent's brief nod to limbo dancing gives it away as spoof.
Other jokes are more obvious. Slough, the paean to his character's Berkshire home town which he boasts is factually accurate, is resolutely mundane. As is Life On The Road, about his life as a travelling rep (but a responsible one, never topping 70mph). By the time he sing off the M25 in Thank Fuck It's Friday, it's the third song on the trot to make reference to Britain's road structure – and in none of these, the lyrics are in the same league as Spinal Tap or Flight Of The Conchords.
Comically, the best of the bunch is Lady Gypsy, because it clunks the mundanity of Brent's life incongruously into a supposedly poetic Sixties-style folksy number. And it contains proper jokes about romping in the heather and Brent's clumsy attempts not to appear prejudicial to the travelling community.
The styles are mixed. In Ooh La La he employs every Americana stereotype; Spaceman Came Down is a thinly-disguised parody of Chris De Burgh; and then there's his cringeworthy be-diddly-diddly-diddly-deeing attempts at white-boy rap in the Comic Relief song which started this revival, Equality Street.
For this he requires the help of his support act, Doc Brown, in character as Dom Johnson. 'Chris Martin's friends with Jay-Z; Frank Sinatra had Sammy Davis Jnr, and I've got one,' he boasts, embarrassingly enthusiastic about sharing a stage with a black, or mixed-race, man.
We could probably have done with more between-song banter; that's what gives the songs context and allows us to laugh more at Brent; and it's hard to believe such a raging egotist wouldn't try to hog the microphone.
Certainly he never introduces the band (former Razorlight and current We Are Scientists drummer Andy Burrows is the only one of them I'm able to name). And when Big Keith, aka Ewen MacIntosh, hilariously introduces the band with the minimum of words, it's only Brent who gets a namecheck, before he strides on to the stage in white shirt, black waistcoat, bold sunglasses and the sort of loose-fitting jeans a middle-aged man might wear in a misguided attempt to appear cool.
The first half of the gig seemed to just coast, but in the second, it simply become fun; tracks enjoyable either on an ironic level or just because everyone else is having a good time – and fuck cool, let's dance...
Review date: 14 Oct 2013
Reviewed by:
Reviewed at: Bloomsbury Theatre
What do you think?