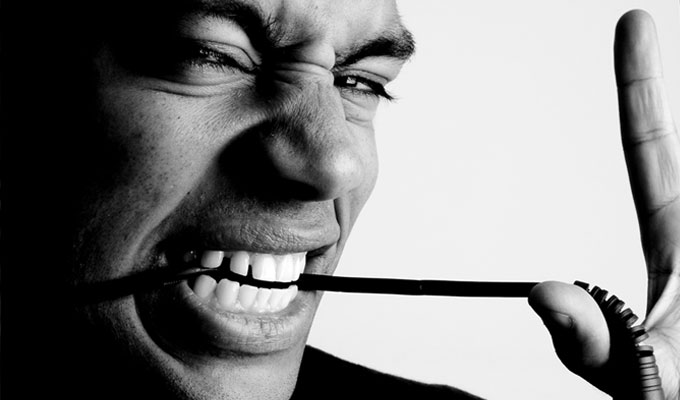 Doc Brown: Of Mic And Men
Note: This review is from 2013
Hip-hop's a young man's game, so Doc Brown thinks. Isn't there something rather unbecoming about still being a rapper at 35, when he's settled down with two kids. And a shed.
But why shouldn't someone reprazent middle-aged suburbia? And since that's not the natural demographic of his chosen genre, comedy is the only way to go. It seems to be working out all right for the good Doc, especially since collaborating with Ricky Gervais for the David Brent track Equality Street.
For the first half of his Of Mic And Men show, Brown pretty much defines himself by what he's not. Or at least what he's not any more, since his days as a hype man for the likes of Mark Ronson and De La Soul are behind him.
Hip-hop's preposterously ostentatious sex-and-money-in-da-club fantasies are easy to mock, but he nails the egotistical macho clichés like only a one-time insider can, both in style and content. His accurate description of what embarrassment dancefloor bump and grind really entails is a particular highlight – although every one his musical interludes is a stand-out moment.
Plenty of rappers, of course, go beyond these archetypes – although they are rarely the famous ones. Brown clearly fits in their company, with his rhymes of passion and honesty... even if that honesty means nothing more than a confessional verse about the pointless displacement activities of every freelance home-worker.
Brown sometimes takes a meandering route between raps, more focussed on explaining himself than going for the most laughs. This approach is initially rather slow, but it proves much better suited to the second portion of the show, where he expertly nails some racial issues from the perspective of his mixed ethnicity; not amazingly revelatory but always put so pithily.
He's also of mixed class. He admits to being a nerd: that's where his Back To The Future nickname came from (his real name's Ben Smith); but he's also comparatively street compared to most of the comfortable audience who go to one-man comedy shows in the Bloomsbury Theatre. That's why he's always in demand from journalists seeking eloquent comment on social issues, while in his work it gives him an authenticity when he talks entertainingly about taking some local youngsters to the panto.
As a working road comic, Brown might be more Ginster than gangster these days, but straddling two worlds gives him an interesting angle, whether it be the space between music and comedy, black and white, or street and cul-de-sac.
Review date: 10 Oct 2013
Reviewed by: Steve Bennett
Reviewed at: Bloomsbury Theatre
Recent Reviews
What do you think?