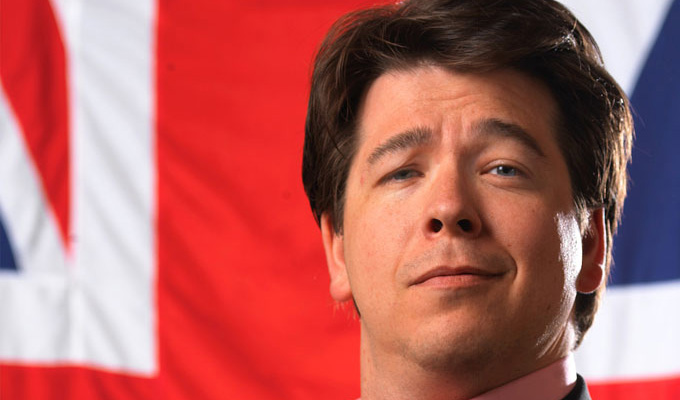 Brighton Comedy Festival 2013 gala
Note: This review is from 2013
It was a coup for even the already star-studded Brighton Comedy Festival gala: a rare and unbilled appearance by one Michael McIntyre.
And it would have come as even more of a surprise had host Alan Carr not let his motormouth get the better of him and blurt out the supposedly unexpected headliner's name in an early exchange with the audience.
Still, the faux pas did not diminish the reaction when McIntyre's name was properly announced at the end of the fundraiser, with the Brighton Dome positively erupting in appreciation.
They were rewarded with a mix of old and new material; with McIntyre describing his very middle-class parenting by iPad, and a recent move to the countryside where he is surrounded by 'miles of miles of rape'. Sounds like certain open mic gigs... and McIntyre, too, savoured the naughtiness of saying such a word. Subsequent talk of noises in the night and how he might combat possible intruders played up to his posh ineffectiveness.
Initially, his delivery appeared to betray a little rustiness, but by the time he closed his set with his tried-and-tested routine about every minor travail of buying a ticket online, he owned the room – even his dodgy African accent was no bar to that.
Without McIntyre's presence, the bill, put together by giant comedy agency Off The Kerb almost exclusively from their client list, would have been an impressively high-profile one with Jack Dee, Kevin Bridges, Jon Richardson and more doing their bit for the Sussex Beacon HIV charity, of which Alan Carr is patron.
The Chatty Man is working up material for a new tour and despite his ever-increasing celebrity, retains a hapless everyman approach; still more Morrisons than Waitrose, even if he can afford to holiday in the Maldives these days. Of course, Seventies-style high camp defines his act – 'give me a pound and see what comes up' was a genuine double entendre – but it doesn't seem affected, and that naturalness endears.
Seann Walsh should have been the opening act, but he was late – managing to establish his slacker character without even being in the building, thanks to his excuse of falling asleep on the train from London. 'But it ends in Brighton!' Carr shrieked with incredulity.
Instead Adam Hills continued the friendly banter that Carr had started. Finding a sign-language interpreter in the audience was a godsend, given he has great material on the topic, which he combined with good-natured American-baiting. 'I have an act somewhere,' he sighed after doing little that he had planned. As if working with the audience was ever going to be a negative.
Hove resident Simon Evans was the first of several local acts on the bill, scoring points by capturing the spirit of the city, with the story of going to an overpriced 'educational farm' surely resonating with plenty of fellow middle-class parents. That lead to a description of the realities of the food supply that was as brutal as any unregulated slaughterhouse, but powerfully, eloquently funny because of it.
Former BBC Comedy Award-winner Angela Barnes is also Brighton-based, and held her own in this 1,700-seater, despite being the most inexperienced act on the bill. Her solid set is best when describing the very relatable misadventures as a thirtysomething single girl getting bedroom action where she can. Sex And The City it ain't.
The first half was closed by Jack Dee, sharing his love of 14th century folk music... or at least that's what he threatened after taking to the stage with a reduced-size guitar. It was for a song about the previous jobs he did, but it was the lengthy preamble that landed the laughs. His dour persona is so well-established in the audience's consciousness that he can deliver, perfectly straight, a story of abject misery and still get titters before any punchline. And his brilliantly withering dismissal of those who wanted to join in with his ditty was one of the funniest moments of the night.
After the interval and a word about the charity's good work, came Jon Richardson who – as at the Mencap benefit in London earlier in the week – was concerned that finding happiness might rob him of his comedic powers. He even did a little skip in celebration of the majesty of the world, momentarily channeling Russell Kane. But fear not, he's quickly back to venting his spleen at the dicks who get in his way, including the lads he somehow found himself on a stag weekend with. Needless to say, that's not his scene, as he entertainingly described.
He was followed by another less high-profile comedian who nonetheless made an impact, Suzi Ruffell. Her opening story about her parents' reaction to the collapse of her relationship is in the same vein as the divorce routine that first brought Sarah Millican to attention; and while stories of heavy nights on the drink, are always legion on a comedy circuit that, after all, largely takes place in boozy clubs, Ruffell regales hers with a winning style and spirit.
Walsh finally made it to the stage midway through the second half, and again exploited his Brighton upbringing to brilliant effect. London Road has a reputation everyone knows, it seems, while no one in the city has what you would call a real job. That suits Walsh, for whom sloth is byword, even getting stressed at the toil involved in getting a pizza delivered. A well-defined persona and astute writing make this a hit observational set.
Finally before the 'surprise' headliner, came Kevin Bridges. The no-nonsense working-class Glaswegian might not appear to have much in common with Alan Carr, but they have both retained an authenticity despite their success. Bridge's hilarious idea for a chat show that makes only the most nominal of efforts to humour its A-list guests, for example, is a brilliant example of how he's unaffected by the bullshit of showbusiness. Even though there was a lot of showbiz on this A-list bill.
• The Brighton Comedy Festival runs at the Brighton Dome complex, the Komedia and Hove Old Market until October 20.
Review date: 5 Oct 2013
Reviewed by: Steve Bennett
Recent Reviews
What do you think?