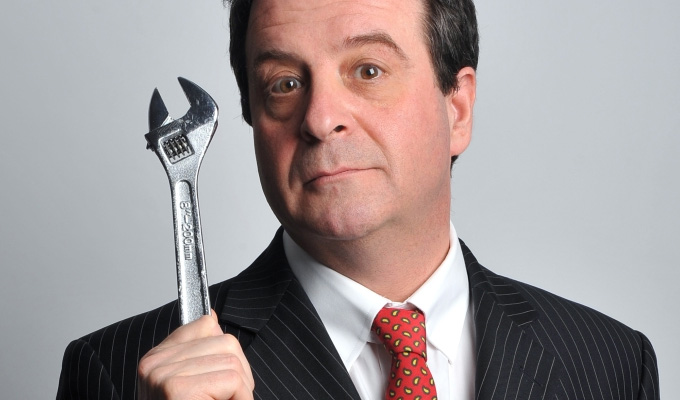 Mark Thomas: 100 Acts Of Minor Dissent
Note: This review is from 2013
The phrase 'professional troublemaker' bandied about a lot, but only Mark Thomas could put it on his passport.
However, he spent most of last year away from his usual subversive mischief-making, not least because he was dealing with the death of his father who he affectionately, but not uncritically, profiled in his last show, Bravo Figaro.
So as if to make up for lost time, he's is back with a vengeance, vowing to rack up a century of sedition in the 12 months from May 13 this year. If he fails, he'll donate £1,000 to UKIP. 'It's quite a motivator,' the veteran leftie says with quite some understatement.
With this show, he's on similar territory as his work with his previous tour and Radio 4 series, The Manifesto, taking direct action to tackle minor irritants as much as the big issues, and reporting back on how his ongoing endeavours are going.
In the opening salvo, he rails against junk mail, dog mess and litter – stuff that even the most ardent Daily Mail reader would take issue with, despite his claims to be a 'Marxist Victor Meldrew'. But once he's secured a consensus, fostering a potent spirit of playful anarchy, the stakes are increased by gradual increments. He starts by subverting bad literature and the chain bookstores that peddle even the greatest tomes as if they were fruit & veg – and before too long he's outside the Russian consulate in Edinburgh, protesting the nation's shameful gay rights record.
With so many wrongs to be righted, the show moves at quite a pace, enlivened by Thomas's irrepressible passion for the causes he takes on, And with eight months more pranking yet to go, the content is only going to become more densely packed.
Thomas's energetic delivery enthuses the audience, too, and it's a show from which you're likely to emerge with a personal action plan. Playful stickers to literally stick it to The Man are available in the interval, there are websites to visit, and ideas for the taking. He seems to have so much fun with activism, you want to be part of it too. Perhaps surprisingly, even the police are willing to play along – or at least some of them are.
Thomas has always been about finding the comedy unusual activities he finds himself caught up in – as well as acting as a bugler to rally the army of the left, united under his passions. His political points, such as the fact that the Daily Express is an offshore endeavour, so avoiding contributing to British tax revenues – in stark contrast to the four million migrant workers the newspaper so despises – are smuggled in under this cover of boisterous japes.
While he's obviously a very funny raconteur, no punchline can top the feeling of telling the audience of an aim achieved. When a private company started charging sports teams to use the Royal Parks, he set up a competitive What's The Time Mr Wolf? game to try to fall foul of their bureaucracy – but the legal triumph of forcing a policy U-turn is an even sweeter success.
He says his gung-ho approach to activism comes because he's 50 and he just doesn't care any more. Not about whatever other people think that is; he clearly cares as passionately now about exposing wrongs – whether it be porn in newsagents or the ruthless Atos disability-benefit assessors – as the most radical of students. But who knew that fighting the good fight would be so entertaining?
Review date: 26 Sep 2013
Reviewed by: Steve Bennett
Reviewed at: Colchester Arts Centre
Recent Reviews
What do you think?