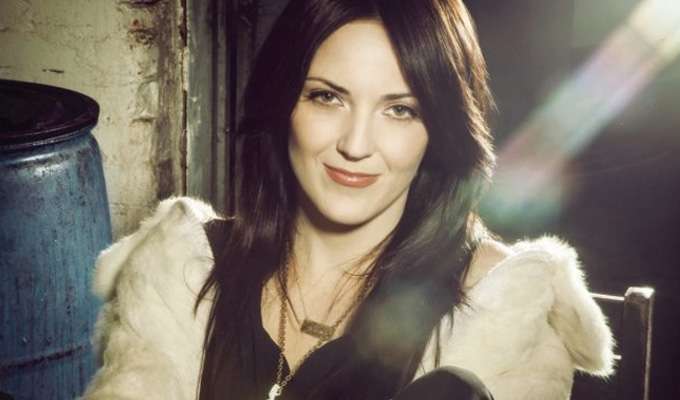 Jen Kirkman
Note: This review is from 2013
She dresses like comedy's answer to Joan Jett and has the defiant sass to match... but Jen Kirkman's attempts to fully embrace the rock-and-roll spirit seem doomed to ignominy. One glass of champagne and she slumps unconscious out of her seat at the theatre – while a post-divorce fling a with teenager half her age only exposes just how wide the generation gap is.
Yet she remains uncompromising; not, for example, caring to check whether any of her references need translating for British ears. If we – her first UK audience – don't understand, it's our problem. As it happens, no misunderstandings arise, although it's funny to hear her suggest some made-up Dickensian-style words she imagines we might use as everyday speech.
Kirkman's Soho Theatre show has sold well for a debutante with little obvious profile in this country, with a CV topped by regular appearances on Chelsea Lately and the Drunk History web series, neither of which bother the mainstream. She's also carved something of a niche as an anti-parenthood commentator, thanks to her book I Can Barely Take Care of Myself, about the joys of being childless.
It's a theme she warms to on stage too, making best use of that feisty attitude to deliver withering comebacks to all the mothers keen to absorb her into their cult. She doesn't want life-ruining kids like she doesn't want a husband – just too much palaver all round – and rather cunningly has much to say about the pressures of society without ever labouring the point.
Throughout the show, she skilfully squares the circle of being brassy and confident, yet also something of a screw-up, something she attributes in part to her parents and their dysfunctional relationship with each other, and with her. Yet when she makes a potentially awkward phone call from the stage to her father back in Massachusetts, the teasing, casual transatlantic banter plays out well.
Kirkman's relaxed approach means she starts very loose, very conversational; chatting about the flight, her jet-lag, mooching around in London waiting for her show. She likens this unfocussed section to doing her own warm-up, loosening us up for a show that turns out more anecdotal than punchline-driven; though her derisive attitude – directed to herself as much as others – always gives the tales an edge.
And via well-observed and truthful routines that encompass a withering disdain for the arrogance of the wedding list, a cheeky, filthy story about her grandmother's eye-opening death or the sneakiness involved in masturbating when in a relationship, she builds to a punchy climax that more than justifies the swagger in delivery.
.

Review date: 24 Sep 2013
Reviewed by: Steve Bennett
Recent Reviews
What do you think?