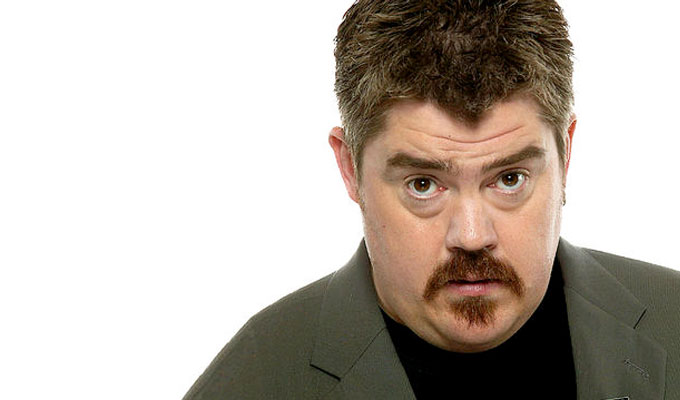 Phill Jupitus: You're Probably Wondering Why I Asked You Here
Note: This review is from 2013
At the end of his show, Phill Jupitus explains his unusual approach. There are hundreds of observational stand-ups, he argues, so he wanted to try something different.
That 'something different' is an improvised show in the guise of three characters – a veteran thespian, a wartime German U-boat captain, and a future version of himself from 40 years hence, all allegedly here from beyond the grave, and all with no script, other than to answer whatever questions the floor throws up.
The set-up clearly stretches his improv muscles – he's a frequent guest with the Comedy Store Players as well as his own projects – but a lot of the time the exercise feels decidedly like hard work, both for him and us. There are occasionally great payoffs, more often than not when Jupitus allows the real him to shine through the constricts of the personas, but also rather too many cul-de-sacs for the ideas to really fly.
Tweedy pipe-chomping thespian Vernon Herschel-Harley (born 1899, died last Thursday), clearly taps into Jupitus's own love of cinematic history and old-school variety acts. He starts off with some creaky local references for the Swindon crowd: mentions of XTC or his former Buzzcocks colleague Mark Lamarr entirely out of keeping with the character – as well as some gratuitous suggestion that he was a 'bra engineer' for Sixties sexpot Diana Dors.
However, some of his more surreal flights of fancy have wings, and although only infrequently laugh-out-loud funny, do create an enjoyably strange world. But it feels too lightweight to be a proper character creation; and not sharp enough for us to marvel at his quick-witted ad-libbed skills.
After the first interval, the teutonic sternness of Kurt Schiffer is amusingly dismissive of the audience's more ridiculous questions, not least the one involving 'seamen' that became – for want of a better phrase – too much of a mouthful for the poor punter who flunked the double entendre. That reveals a flaw with the show: it can only be as good as the questions, even before adding the uncertainty of how Jupitus dealt with them.
Again, Schiffer's back-story of marriage to a piano-playing Cockney, presumably at least partly considered by Jupitus ahead of the gig, adds some enjoyably weird tones, while he's also done enough historical research to ground this in at least a dash of truth. And the idea that he spent much of the war hiding away in Mexico where he ran a bar called Adolf Sanchez's Haus Of Fun has wit. But before we get too deep into it, the korvettenkapitän emits the terse, weary command: 'Question?' that's always moving us on.
In both these creations, Jupitus sometimes struggles to keep character, endearingly turning his back on us as he corpses at his more amusing responses. With the last, he can be more relaxed, since it's a future version of himself projected here via the science of theatrical conceit – and he answers questions about what the next 40 years will bring for Simon Cowell, Bruce Forsyth and the Queen. Not too adventurous, the inquiries here.
This otherwise good-natured section takes a sour turn as a woman asks him why he's wearing so many rings, and Jupitus berates her for a niggardly question revealing her own petty prejudices and for breaking the pretense of the show most of the rest of us were happy to go along with. He's morally right to point out that he should be allowed to wear what the hell he likes, but it strikes an odd tone that he might have pulled off with a more conventional stand-up.
The desire to try a different format has to be applauded, and anything more experimental needs to have the space to fail. There's too much goodwill towards Jupitus for that to happen, earned because we know he's working outside the comfort zone, not just because he's a familiar face off the telly.
But also, on this performance at least, he falls short when compared to either brilliantly thought-through character comedy or the exhilarating feeling of genuinely freeform show like Ross Noble at his finest.
Review date: 20 Sep 2013
Reviewed by: Steve Bennett
Reviewed at: Swindon Arts Centre
Recent Reviews
What do you think?