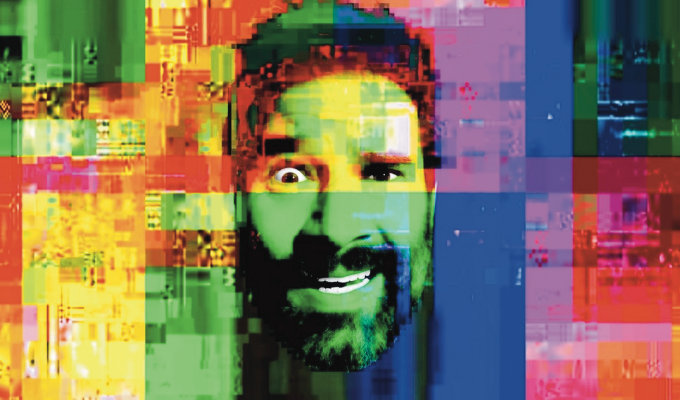 Adam Buxton: Kernel Panic
Note: This review is from 2013
Adam Buxton
reads his reviews, but he certainly reads other people's. Ignoring the usually sage advice not to look at the bottom half of the internet, he has made an unlikely career out of reading YouTube comments out loud.
Though this show has a different name, Kernel Panic is very much in the same vein as his Bug shows, even using some of the same material he showcased there. The format is sharing music videos (or clips thereof in this case), nuggets of hyperbolic praise or offended criticism that lie beneath, and a few of his own silly visual compositions. It's those sections, putting his own creativity to the fore, that form the high points – whether it's his hypnotically repetitive Moby/Michael Stipe number run as a 'pre-roll' to the show, or the hilariously puerile reinterpretation of Brad Pitt's pretentious fragrance adverts which ends it.
These are all played off his trusty 'laptop full of bullshit', and Buxton admits an insecurity that he's too reliant on technology to be a proper comedian. Indeed, he has an excellent way of proving just how exposed he would be if ever the MacBook crashed. As if to further distance what he does from stand-up, Buxton frequently refers to this as a 'presentation' rather than a show. But he, like Dave Gorman, has truly mastered PowerPoint as a way of delivering gags, rather than as a mere prop or gimmick.
Buxton doesn't actually use Microsoft's PowerPoint, of course, but Apple's equivalent Keynote, as he's a self-confessed Mac ponce – and you suspect there are several in the audience. For much of this humour comes from the overlap of hipster-nerd sensibilities and the sort of middle-class smugness that comes from knowing you're right. He bonds with the sort of people who enjoy pointing out a mis-spelled or an ungrammatical comment, but don't know one end of the Premiership to another.
While he'll never run short of oddballs and bigots with opinions they think are worth sharing online, you cannot overestimate the editing job he must do in finding those that are funny, not just offensive and illiterate. Some are even deliberately witty – YouTuber Wesley Henry Head probably deserves a writing credit for the quirkily barbed punchlines he posted under a Thom Yorke video.
As it's 'found comedy', Buxton realises that if this show is to be more than a live twitter feed, pointing to interesting and ridiculous things on the internet, he has to add value. Some of that comes from the silly voices and sarcastic stance he adopts to read the comments out, or the timing of how each comment is revealed. But he also drops in little re-enactments of how the posters must have felt when they posted their smug or aggressive comments. Plus he knows everything's funnier with a jingle, and there are some particularly jaunty examples here.
Even the interaction with his laptop is well done, 'accidentally' revealing the embarrassing contents of his hard drive to the audience, or having bogus alerts pop up. There are some segments that are a little more like illustrated stand-up: the mocking of accents in the audiobook of the Disney animation Brave is great, the forensic recreation of a minor Twitter spat much less so. No wonder he vows of that self-absorbed section: 'I won't do that again...'
Such missteps aside, Buxton could well be 'a tasty egg of your breakfast glory', to quote one of the YouTube comments that has all the hallmarks of a future catchphrase.
Review date: 14 Sep 2013
Reviewed by: Steve Bennett
Reviewed at: Union Chapel
I don't know whether
Recent Reviews
What do you think?