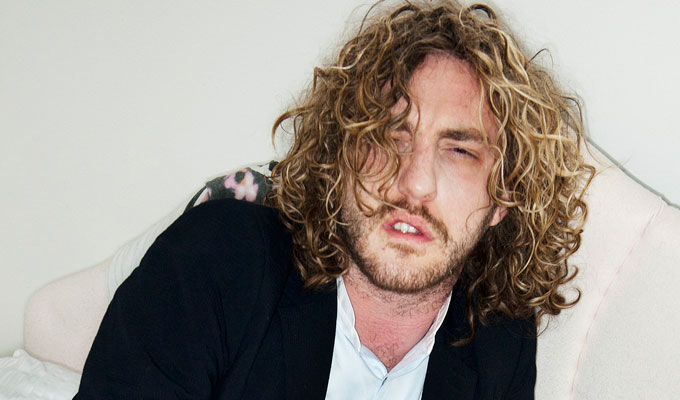 Seann Walsh: The Lie-In King
Note: This review is from 2013
Seann Walsh is the comedic voice of his generation. And what that generation is saying, in a lethargic, gruff mumble is: 'Leave me alone, I've got a hangover.'
He's a mid-twentysomething struggling to get started on the uphill road of real life. He may seem lazy and feckless to the outside observer, but he insists he's trying, by finally moving into a place of his own.
It's just that the distractions of a night in the pub are irresistible when you want to escape the misery of a dank basement flat, surrounded by the noise of builders and sirens. And a night in the pub – which may spill over into an 'all back to his' session via the 24-hour store – inevitably means a following day curled up in his most homeless-chic attire in front of Sky Sports News.
There's an authentic, universal feel to Walsh's material. If you've been there – or are there - you know the lifestyle he describes to be true; if not, he makes it so credible.
The delivery has a fluidity and an energy that's hardly in keeping with his avowed laziness. Likewise he pours scorn on the organised people, thinking there's something inherently unnatural about replacing a lightbulb when it goes out, but it's clear a lot of work has gone into making his material about the everyday shine so brightly.
Walsh lands punchlines with a rare efficiency, beginning from the moment he walks on stage. He opens with the usual icebreaker, of what celebrities he resembles, but finds some wonderfully specific and obtuse examples. The set cover a lot of familiar touchstones of modern, from Facebook to yoga to iPhone battery life, but more often than not he gives them a satisfyingly different twist.
At one point, Walsh does an uncannily accurate impressions of Kevin Bridges, Josh Widdicombe and Michael McIntyre – the latter of which is a risk as a cynic could argue his whole career has been a Michael McIntyre impression. But rather he is to a drifting youth what MM is to a settled middle class almost a generation older: they both describe the previously unobserved, or at least unremarked-upon, minutiae of their archetypal lives with a keen eye and a keener wit.
On the topic of undiscovered talents, it seems Walsh would have made a great Nu Metal star, emulating his once-beloved Limp Bizkit, tongue in cheek, before declaring that modern dubstep 'isn't proper music'. And so the doors to the middle-aged saloon swing open.
There are some physical moments, too, such as his slo-mo action replay of returning a football that strays into his path in the park. This didn't work in the vast Latitude festival tent last month, but here it more successfully lends a different pace to the hour.
At the end, his stand-up comes full-circle, giving The Lie-In King a satisfying sense of closure. Then an epilogue, when he's joined by Romesh Ranganathan and Henry Paker to act out a reprise of all that's gone before, including a couple of callbacks to last year's show. But tonight, there's a definite end-of-term feeling, and the mates muck about self-indulgently, rather ruining the effect.
Still, for unadorned, mainstream stand-up, Walsh certainly is, if not king, at least heir apparent.
Review date: 26 Aug 2013
Reviewed by: Steve Bennett
Recent Reviews
What do you think?