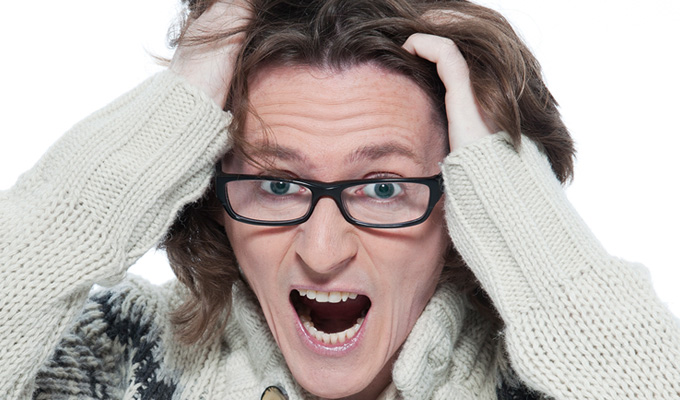 Ed Byrne: Roaring Forties [Fringe 2013]
Note: This review is from 2013
Ed Byrne is the BMW of comedy; a beautifully-engineered machine without the flashier appeal of some rivals, but guaranteed to get you to your destination in style and comfort, thanks to a powerful engine beneath the slick exterior. And he's even got cushy seats, thanks to the luxurious EICC, the least fringey of all Fringe venues.
The only problem is the radio is stuck on Radio 2. And that's because the 2013 model Byrne has accepted – even welcomed – the onset of middle age. The main appeal is that he no longer need to seek out friends, so can instantly dismiss anyone he encounters who doesn't meet his exacting criteria for not being a dick. Such pedantry is rich for comedy, giving comeuppance to the ignorant and self-deprecatingly mocking Byrne's own intolerance.
There are downsides of mid-life, however, including the demands of raising two children, aged one and two-and-a-half, that means his time is no longer his own. Another is his first hernia.
While parenthood, the speed awareness course he was forced to endure and his limited sporting ability all provide relatable, quotidian material – it's the medical mishap that really ramps up the comedy, as we revel in the discomfort of a stranger, which is always funny. More run-ins with the medical profession comes when he considers a vasectomy, with similarly hilarious results.
Byrne's work on Mock The Week means he's always having to address the topical, and here reels off some excellent caricatures of the likes of Boris Johnson and, with particular vitriol, smug millionaire George Osborne. But in one of the most controversial lines admitted north of the border in the last month, he confesses a soft spot for David Cameron. So it has to be evidence of his charm as a comic that the audience let him say this.
Byrne knows his fortes: impotent rage and obsessing over comebacks he should have said in earlier conversations, and both play their part in Roaring Forties. At times it feels like his engine is just ticking over, but an occasional burst of speed proves what he is really capable of.
Review date: 26 Aug 2013
Reviewed by: Steve Bennett
Recent Reviews
What do you think?