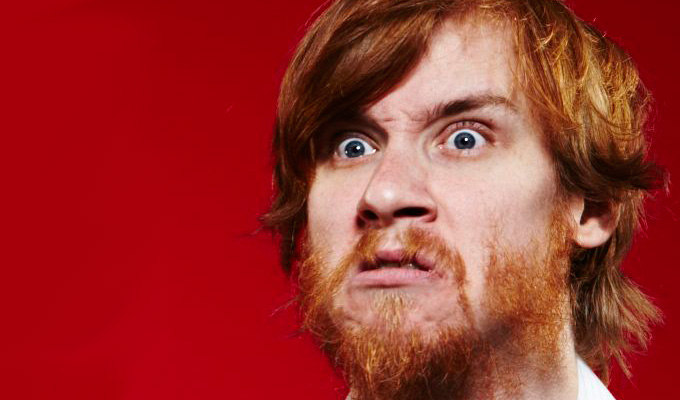 Bobby Mair: Obviously Adopted
Note: This review is from 2013
Bobby Mair's life is a mess. So is he. So is his show.
This is definitely comedy as therapy as the Canadian comic tries to get to grips with his personality disorder through uncomfortably blunt confessionals and dark jokes.
In the first few minutes, he's called himself scum, described a fight with a homeless guy and regaled us with his glamorous existence, flat-sharing with a coke-head and having to travel from London to Aberdeen by bus. He does not paint himself as one of life's winners. But he doesn't tell the hard-life stories with the balls-out conviction of other depraved comics, at least not today. He wiggles the mic nervously, and seems distracted on stage, which hits the audience's confidence in him. We certainly can't relax.
It means his jokes are just as likely to be greeted with an awkward titter as they are with a laugh, and his interactions with the front row doesn't do too much to put us at our ease. We are close to 'nutter on the bus' territory here; a man with terribly-maintained facial hair and psychotic gaze striking up a unasked-for conversation about about surreptitiously masturbating in the same bed as their sleeping dad.
An unabashed approach to sex is certainly a defining trait, even if talk of vibrators and 16-year-old boys wanking a lot is hardly revelatory, and we've somehow got to a place in comedy where pretending he's got teenage girl sex slaves chained up in his basement is just a bit dull. He seems to want to shock, but it's just washing over a laid-back audience.
There is plenty of material about drugs, too, which won't surprise you, but his strongest routines actually take a step back from his own depravity. The gag about the X-Man character Darwin was great.
Other reviews this Fringe have made reference to material he didn't do tonight, so a generous interpretation was that it was an off-form show from a comic who doesn't stick to a script, and he certainly didn't seem focussed.
At the end, even he's not sure if it went well. 'I think it was me,' he says apologetically, before concluding: 'It was.'
Review date: 22 Aug 2013
Reviewed by: Steve Bennett
What do you think?