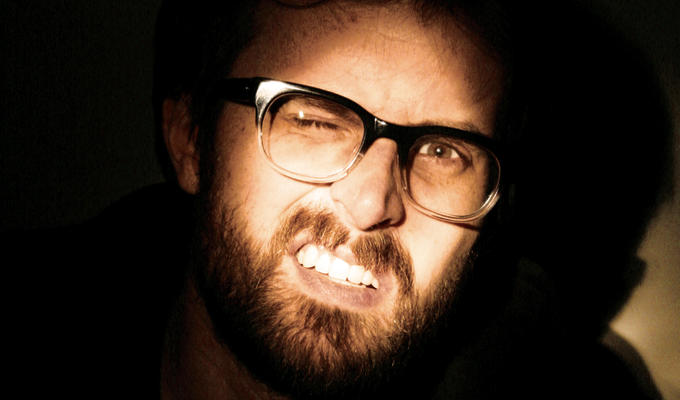 Michael J Dolan: Nothing Will Ever Be Alright Again Ever
Note: This review is from 2013
If the comedy doesn't work out for super-cynic Michael J Dolan, he might want to consider an alternative career as a suicide bomber. After all, he has the character profile Al Qaeda are seeking.
He has little regard for humanity, wants to die suddenly and in public, and thinks murder is the best feeling a human could experience – at least if they get away with it to the day they die.
So, no, this is not a happy, clappy show, but a dark nihilistic grumble about what the Western world has come to, with our pointless jobs and needlessly extended life expectancies, from a man who finds little joy in life and no reason to stay alive longer than he needs to endure it.
It's a pungent worldview, but Dolan describes it with a mordant wit and a detail that only someone who truly believes in the futility of existence can. It is the opinions that get the laughs, more than any well-developed punchlines, since his standpoint it so surprisingly contrary to what we accept a normally functioning person would have. Yet he makes a convincing case.
Such authentic existential angst isn't quite as bleak as it could be, mind, as he has resigned himself to his situation and expresses his dark thoughts in the most matter-of-fact way. And there's probably something suppressed inside even the most optimistic of souls who thinks he might have a point.
That said, he accepts not everyone's going to like him. Most comics probably acknowledge that at some level, but Dolan proudly pronounces: 'Some of you won't enjoy this and I don't care.' Truly, he's the Millwall football hooligan of comedy.
Yet for a misanthrope, he's adept at dealing with the room without pandering to it. Nothing will interrupt his tide of negativity, even terrible venue management by the Gilded Balloon – sending half the queue to the bar then forgetting to call us back up until after the show had already started, so we all flood in late.
It's not just humanity as a mass he's downbeat about, it's his personal life too. He speaks with a grudging inevitability about how his sex life has dried up now he's married, to a woman he could never protect like she believes he could.
Dolan can fashion the occasion brilliant turn of phrase – the image of his naked body will be hard to scrub from memory once he's described it – and there's perverse joy in wallowing in an antisocial viewpoint, as the likes of Dylan Moran have previously proved. Dolan's comedy is not in that league, but his standpoint makes him intriguing. 
Review date: 21 Aug 2013
Reviewed by: Steve Bennett
Recent Reviews
What do you think?