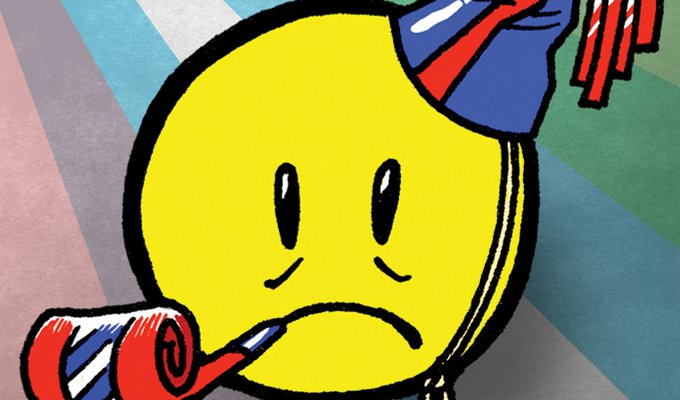 Sad Faces Threw A Party
Note: This review is from 2013
It may be a party, but Sad Faces don't seem to have brought much to it. They are another trio of post-uni middle-class white lads mucking about with sketch comedy, perfectly competently but little originality or distinctive attitude.
They go through the motions of this show being a celebration of Tobias's 24th birthday, but it's rather a poor one, as they are the archetypal useless flat-share twentysomething we've seen so often before. A forlorn 'happy birthday' banner is draped across the back of the stage, bit there's no food, no drink and no music, not like the cool rave being held downstairs, hosted by Jasper, a privileged 'OK-yah' Sloane – again so, so familiar as a character.
An article in the fictional lads' mag Jerk, in which a Danny Dyer type describes the key ingredients for the perfect party, provides a structure of sorts, but it's fairly weak. Supposed jeopardy comes from the risk that they will break the three cardinal rules that spell party disaster, and intrigue from trying to find the identity of a mystery twin. It's as contrived as it sounds.
Their personas are not strong – all a bit awkward, a bit shallow, a bit idiotic. Jack is the requisite master dimwit, but he's no Marek Larwood (oh how the Fringe has missed We Are Klang). And they deliver each line with a detached, jokey ironic cadence that screams 'We are doing a Fringe sketch show!' It's the way so many other shows have been performed before, and they stick to the format tightly.
Jokes tend to be decent enough, though there are some misses that they end up wedded to, such is their love of a running gag, and the performances decent. But it's all boilerplate stuff. If you've never seen a sketch trio before, you'd probably quite enjoy it, but Sad Faces are adding adding nothing new to a crowded market. Sad face indeed.
Review date: 19 Aug 2013
Reviewed by: Steve Bennett
Recent Reviews
What do you think?