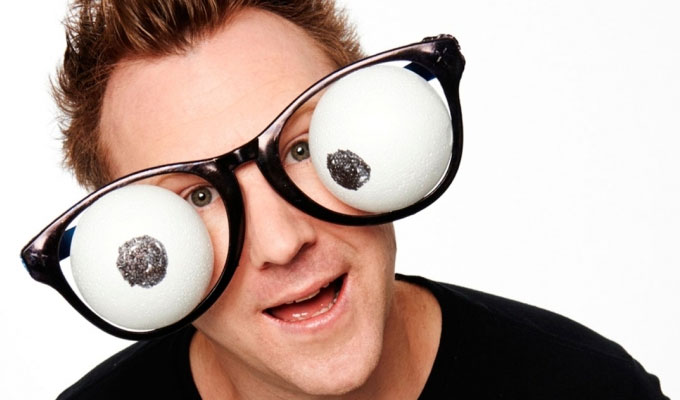 Jason Byrne's Special Eye
Note: This review is from 2013
Jason Byrne's just about to star in his own BBC One sitcom Father Figure – but he's already the biggest star at the Fringe, playing the massive McEwan Hall every night.
However, he has been using artificial means to add bounce to his stage presence: spacehoppers. The show opens with him boinging across the stage, recruiting some accomplices from the front rows to join him, helping set up the tiggerish mood that will persist for the next hour.
Unusually for a Jason Byrne show, he then settles in to his material. Messing around with the punters is his forte, spinning out mad yarns from the scraps of information they give him. But at this performance, he's made the unusual decision to focus, and something is lost.
Speaking of focus, the motif for this show is a pair of crossed eyes, in keeping with the title. The logo is on the backdrop, on the spacehoppers, and on stage ornaments, but why is never explained. He had a lazy eye as a kid, but you'd have to know his old routines for that to make sense.
A different sort of childhood nostalgia is deployed here, as he recalls how his mother used to reprimand him through the venetian blinds. It becomes a running joke, perhaps over-used, but at least giving him a get-out for the show's end. His father's discipline was more direct, dispensed from the front seat of the car in a scenario many a comic has described. But the difference between that and the hilarious story of how Byrne's own six-year-old conducts himself in a moving vehicle gives this an edge, and an insight into how parenting has changed in just one generation.
If his son is mischievous, we don't need to look too far for where that came from. The prop Byrne ties to his nether regions for the card-trick finale is essentially the same behaviour, but from an allegedly adult man.
More than ever, Byrne's supercharged nervous energy drives the laughter, from material that's a little more pedestrian than he usually delivers. There are some familiar Byrne topics here, such as the war of attrition that passes for his marriage, alongside discussions of wanking, shitting and farting. Sophistication is not his forte, but his graphic descriptions sell the toilet humour effectively.
It's easy to see why he's the big draw, but he has had better shows.
Review date: 19 Aug 2013
Reviewed by: Steve Bennett
Recent Reviews
What do you think?