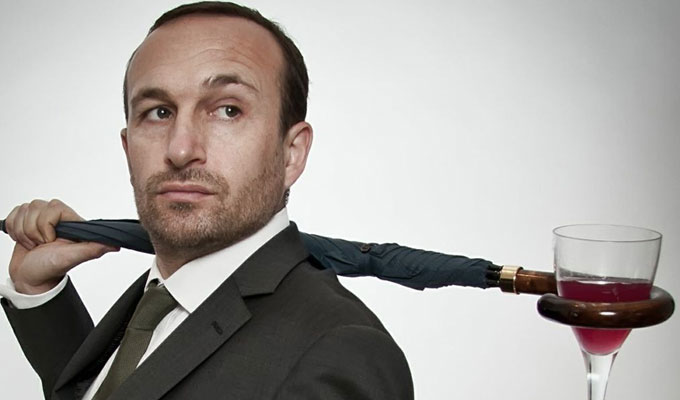 Mat Ricardo: Showman
Note: This review is from 2013
An hour of juggling surely isn't the easiest sell in a crowded festival where you can see countless such acts on the street. Yet Mat Ricardo is almost sold out on an early weekday. It seems his mission to prove that there's more to his genre than cheesy clowns or hackneyed busking is paying off.
Ricardo is neither of those things; but a suave showman with an elegant line in patter and a selection of routines away from the norm. He fashions himself on the 'gentleman juggler' Kara, a star across Europe at the turn of the last century, who always looked dapper and would base his performance around objects a dandy-about-town might encounter: billiard cues, wine glasses, cigar boxes, umbrellas...
He explains Kara's life story as part of a spiel that is filled with such historical context. It really is an education, such as retelling the story of the stunt that killed juggler Paula Deluca in 1936, and Ricardo is an eloquent and engaging guide, genuinely passionate about his subject. But then he'd have to be, given the dedication to practice required over the past 25 years to achieve his level of skill.
Nevertheless, his entertaining banter is cheekily self-deprecating. Ricardo is a witty raconteur, but whether he was right to categorise this as a comedy show, when there's a perfectly fine cabaret section of the programme, is a moot point. It's the dextrous skills that astonish, not the jokes – though one visual gag in particular is brilliant.
With juggles involving hefty 15lb bowling balls and terrifying-looking electric carving knives, a perfectly-choreographed hat-and-cane routine and some impressive feats of balance, Ricardo mixes up the styles and ensures the hour's kept interesting. He could, indeed, be on the brink of achieving his aim of making juggling cool.
Review date: 15 Aug 2013
Reviewed by: Steve Bennett
Recent Reviews
What do you think?