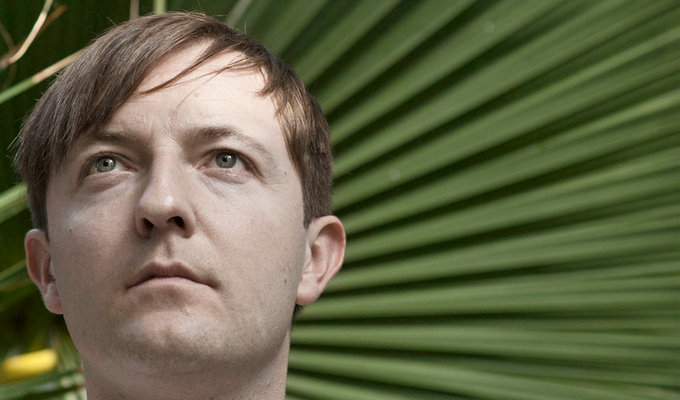 Andrew Maxwell: Banana Kingdom
Note: This review is from 2013
Andrew Maxwell has created a super show here, wide ranging, intelligent, self-deprecating, accessible, and importantly, very funny, you couldn't ask for more. Sunday night in the upside-down cow wasn't completely full, and for the first time this Fringe I was cold in a show. The audience were attentive, but unbending, he deserved more. However Maxwell was professional, patient and persistent and coaxed them out of their timidity.
The usual interrogation of the audience to draw them in – 'Anyone in from...' – did have a point, as he uncovered Americans, Kiwis, Australians and some Irish people (Two of whom folded in on each other and slept like the babes in the wood, after a lot of fermented apple product). He got to some uncliched idiosyncrasies of each country, and the constant thread was the imminent referendum on Scottish Independence and the London parliament's arguments against it (we need the pheasant beaters on the estate) as well as Europe's marked lack of enthusiasm for Scotland's solo participation in the EU.
The personifications were sharp and apt but not mean-spirited. The American in the audience was used as a check and balance for references, not for lazy stereotyping. An anecdote about the gun laws in the US, which defy rational all thought, was clear and full of Maxwell mischief. And that's his USP, there's an element of misrule in what he does, exposing folly, hypocrisy and pomposity.
It was a total pleasure to watch this former comedy hooligan (I mean it in a good way) being as powerfully funny as ever with material on family, his middle-class children... and he managed to range from mediaeval ecclesiastical history to Irish shagging stories without ever grinding the gears. Not your average waffly, muck-about chatty boy show, no. Heights were reached. Great stuff.
Review date: 14 Aug 2013
Reviewed by: Julia Chamberlain