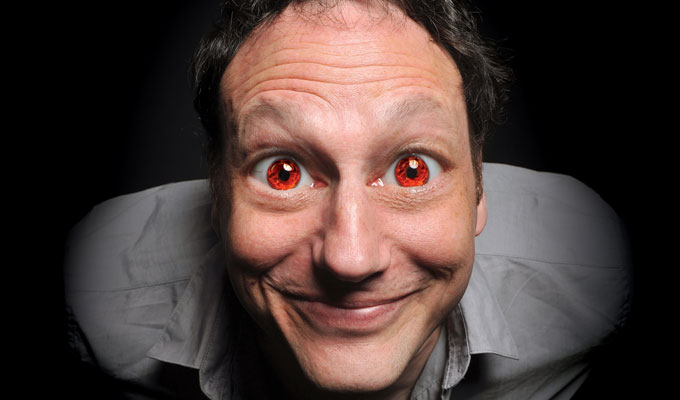 Carey Marx: Intensive Carey
Note: This review is from 2013
'It's good to be here,' goes the comedian's stock opening line. But it carries a significance for Carey Marx, for on May 11 last year, he suffered a series of heart attacks. Spoiler alert: he lived to tell the tale.
It's an experience that made him appreciate what he had, but if you think this is going to be a soppy morality tale about the fragility of life, you clearly haven't seen any of his previous eight Edinburgh shows. Because while it does cover that 'fragility of life' thing; it's so much more besides.
Marx's humour has always been tinged with mischievous darkness, and now he's got really edgy, personal subject matter to discuss, he's going to make the best of it. All you need to know about him is encapsulated in the fact that when he felt the tell-tale tingling in a lonely Birmingham hotel room, post-gig, his first thought was to get his phone out ... and watch some porn.
Part of the show is what an idiot he was, part of it is a gripping description of his experiences when he finally got himself hospital, both with his fellow patients and of the medical process. And this segment proved too much for one squeamish punter who actually passed out at the description of the cardiac surgery.
Undergoing the procedure floored Marx, too, leaving him too feeble to carry a bag of sugar back from the store. Many comics jokes about the frailty of a middle-aged body, but Marx, now a post-op comic, got a fast-forward to his old age, incapable of doing anything for himself. Though the prospect is bleak, Carey still finds humour in the little things.
It also made him think a lot more about how his relationship with his wife Carrie, a fellow performer but 17 years his junior, might play out as he ages. But while Marx often displays strong streak of child-like naughtiness, he's not afraid to be candid about their love. It makes for a story that is as emotionally touching as it is funny.
Physically, Marx seems well on the mend, and on stage you might never know about these life-changing experiences were he not talking about them. And in his comedy he's the same mix of sharp, sweet, cheeky, cynical, romantic and rude as he ever was. Rarely is cardiac failure this funny.
Review date: 14 Aug 2013
Reviewed by: Steve Bennett
Recent Reviews
What do you think?